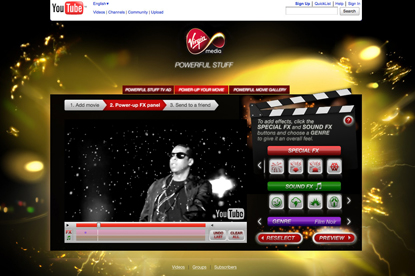 Created by Saint, the work forms part of Virgin Media's "powerful stuff" campaign, and aims to help consumers make their videos more powerful by giving them the option to add a variety of visuals and different sounds to their clips.

Users who visit the Virgin Media Powerful Stuff YouTube channel can choose to either upload their own videos to customise, or choose from a selection of clips already hosted on the channel.

Special visuals that can be added include placing missiles or lightning bolts on to the screen, and adding audio such as applause or the sound of a car revving.

Users can also give their videos a different setting, by incorporating a western or horror theme.

Richard Duff-Tytler, the senior online marketing manager at Virgin Media, said: "We want to celebrate entertainment while reinforcing the association of the Virgin Media brand with online video. This is a fun way of bringing our brand values to life rather than a hard sell."