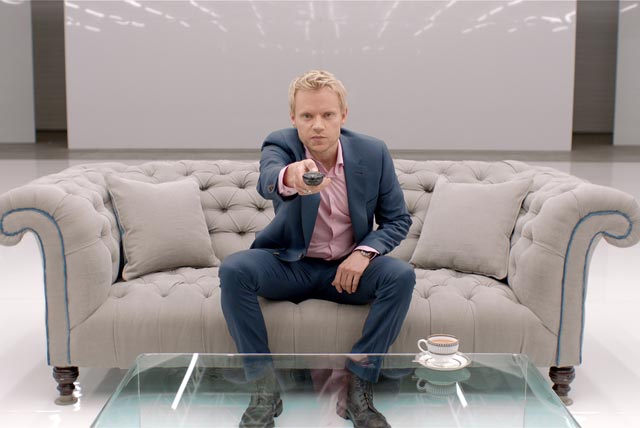 The ad campaign, created by DDB UK and first revealed in Campaign last week, includes TV, digital, print, retail, experiential and social media, and aims to highlight the "positive reception" the Virgin Media TiVo set-top box service has enjoyed since it launched in December 2010.
From Saturday (2 July), the campaign will include a 30-second ad featuring 'The Hustle' actor Marc Warren using the TiVo service. In the ad, Warren is faced with spinning TVs, catapulting screens and falling televisions, before demonstrating TiVo's ability to simplify the options.
The ad shows Warren searching through a wide choice of programmes to find his favourite shows, avoiding clashes by recording three shows, while watching a fourth and setting a wish list for automatic recording.
The first TV ad breaks during 'Dinner Date' on ITV1 around 5.45pm today. The media planning and buying was by Fifty6, the bespoke agency formed by Manning Gottlieb OMD and Goodstuff for Virgin Media.
Nigel Gilbert, chief marketing officer of Virgin Media, said: "Virgin Media is leading a much-anticipated revolution in the way people enjoy their favourite shows and our new advertising campaign is focused simply on the great stuff on offer from our new TiVo box.
"We know the features and functions our customers have already fallen in love with, and are making the most of a fully integrated campaign to cut through the noise and highlight these stand-out attributes."
From Saturday, Virgin Media's campaign will suggest people visit the Virgin Media website where they can find out more about the TiVo service and vote on their favourite feature.
The campaign sign-off is: "We think it's the best way to watch TV, but what do you think?", which Guy Bradbury, creative director at DDB UK, said invited the audience to interact with the campaign.

Bradbury said by inviting the audience to interact in this way, Virgin Media was showing it had the confidence "to engage with consumers, which comes from the game-changing nature of the Virgin Media TiVo Service itself".