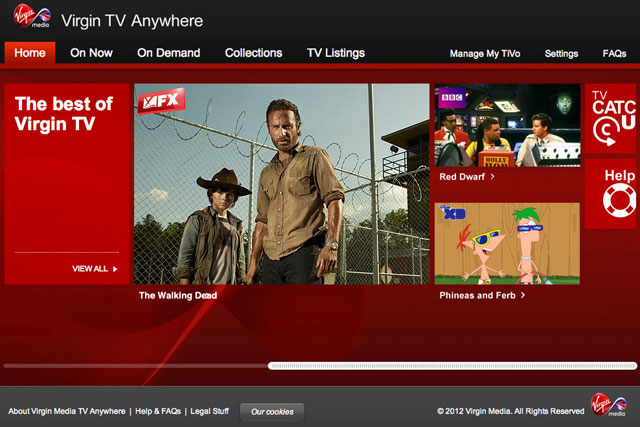 Virgin TV Anywhere is a free service, available to Virgin customers from today. It allows viewers to stream live TV and access premium channels such as Sky Sports and Sky Movies.
The service will launch with 45 channels and includes catch-up viewing services from BBC, ITV, 4oD and Demand 5. By comparison, Sky Go offers 33 live TV channels, as well as radio channels. Virgin Media also offers movies as part of its on-demand package to buy at an additional cost, in a similar way to Sky Go. Sky launched Sky Go, free to its customers, in July last year.
Virgin Media's service has social media functions embedded and through its iPhone and iPad app, users can share and comment on TV content across social media channels, in a similar way to TV companion app Zeebox, in which BSkyB has a 10% stake.
Users can also control their TiVo service on the go via the app. Virgin Media plans to roll out an Android mobile app at the start of next year, but currently the service is only available on Apple devices.
BT and TalkTalk's subscription offering YouView does not yet have a similar multiplatform service.
Red Bee Media created the online interface for Virgin TV Anywhere.
Follow @shearmans