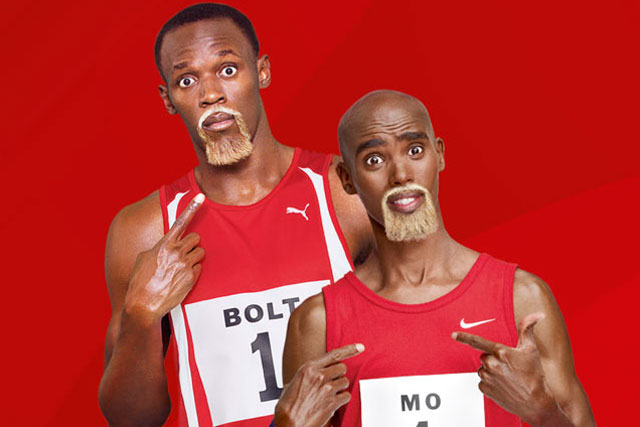 As with Bolt before him, Farah wears the blonde, Bransonesque goatee beard in a print ad campaign, which launched across a number of national newspapers during the weekend.
Virgin Media has signed up the Somali-born long distance runner in an open-ended deal estimated to be worth £500,000.
The campaign has been created by BBH, with all media planning and buying handled by Fifty6. The press ad was conceived by BBH creative director Matt Doman and planner Lynsey Atkin.
Jeff Dodds, executive director of brand and marketing communications at Virgin Media, said: "After delivering a stellar performance in the Olympic Games, Mo has found a special place in all of our hearts and is a fully fledged national hero.
"We're absolutely delighted to be working with him. Virgin Media is all about delivering brilliant entertainment, and nobody has got the nation cheering at their TVs more than Mo over the last couple of weeks.
Like Mo, we are also obsessed with speed, particularly broadband speed. Mo will join our other sponsored athlete Usain Bolt in ensuring that we inspire the nation to 'Keep Up'."
In addition, Usain Bolt, the triple Olympic 2012 gold medallist, returned to TV screens during the weekend for Virgin Media.
Bolt was the face of Virgin's first major marketing campaign of 2012 in January, telling Virgin Broadband customers the great news about their broadband speeds increasing.
The ad broke on primetime ITV1 during 'The X Factor' on Saturday night.
Previous celebrity ambassadors of Virgin Media have included Stephen Fry, David Tennant, Samuel L Jackson and Uma Thurman.
Follow @nickbatten2