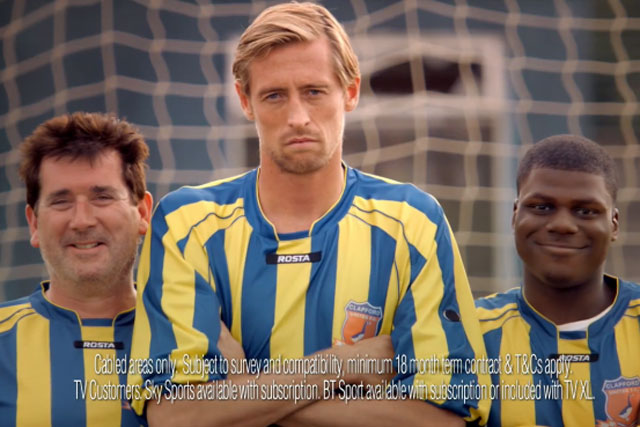 The new sports broadcaster has confirmed that almost half of all households that watched BT Sport's opening lunchtime football game between Stoke City and Liverpool on Saturday 17 August, did so via Virgin Media's cable TV platform.
The game attracted a peak audience of 764,000 viewers, placing it ahead of predecessor ESPN's audience for its first game last season. A further breakdown of BARB figures highlights the game attracted a match average of 441,000 total households, of which 51 per cent were paying BT customers.
In terms of total audience, BT attracted 629,000 viewers, of which 43 per cent were Virgin Media customers. The signficance of the carriage deal comes despite BT announcing one million homes have signed or re-signed to its sports broadcasts within the last three months; only about 225,000 of these watched the opening match.
Away from the satellite platforms, just 30,000 households tuned into BT Sport's first game via TV boxes or Youview.
BT and Virgin Media only secured their three-year deal days before the start of the Premier League, and announced it on 15 August.
The wholesale deal enables Virgin Media to offer BT Sport directly to its 3.8 million TV customers.
Marc Watson, chief executive of BT TV, said: "BT has made a large investment in BT Sport and this is an important commercial agreement for us that recognises the excellence of the channels. We are keen to make our services as widely available as possible and to do so via wholesale arrangements."
Virgin Media is able to provide BT Sport 1, BT Sport 2 and ESPN to their XL TV customers as part of their packages, without the need for those customers to take any action.
The agreement also enables Virgin Media to offer the channels as a standalone premium service to TV customers who do not take the XL pack.
This is similar to BT's offer to satellite TV customers who do not have BT broadband and who can pay £12 a month for the channels via satellite or £15 a month in HD.
Follow @DurraniMix