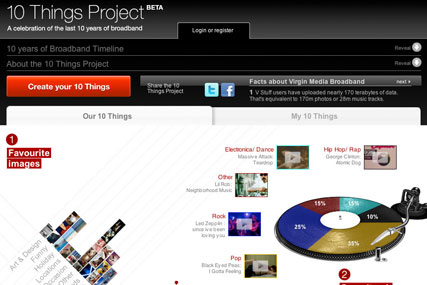 The project, created by branding and digital agency Start Creative, asks users to nominate their favourite moments from the past decade.
Favourite things categories include images, songs, YouTube videos, destinations and websites, among others. At www.10thingsproject.com, users can create a virtual time capsule to be shared on social networking sites Facebook and Twitter.
Trevor Chambers, executive creative director of Start Creative, said: "We thought it would be fascinating to take a step back and invite people to take a look over the journey we have been on over the last 10 years."
Sonia Sudhakar, head of online marketing for Virgin Media, added: "The brilliance of the web has bought us a huge amount of entertainment, communication and information.
"The 10 Things Project celebrates broadband's first 10 years, with a tribute to the way it has impacted on our lives, creating a snapshot of the personalities, media, memories and those all-important 'LOLcats', which have helped shape the last decade."
The individual 10 things chosen by users will be compiled by the website and used to create changing, dynamic graphics, showing the soundtrack of the decade, a movie reel with the top 10 films, and a map of dream destinations.
Virgin Media has nearly 10 million customers and is one of the largest broadband service providers in the UK.