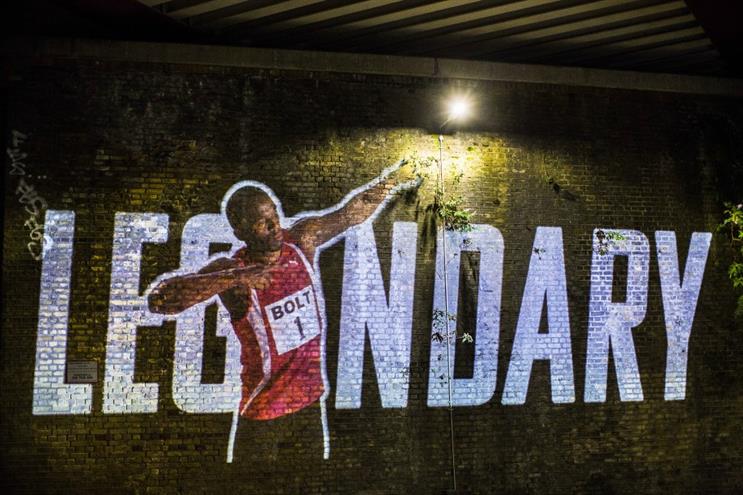 To celebrate Usain Bolt's last race, which took place on 5 August, Virgin Media projected a virtual version of the sports star on to the streets of London to run a race around the city's iconic landmarks.
The lap began in Brixton, and saw him start off at Electric Brixton, before racing past Brixton Recreation Centre, under Brixton Rail Bridge through to Cold Harbour Lane. Bolt appeared on Southbank, with Tower Bridge as a backdrop, and then ran to the Tate Modern heading to Brick Lane.
The Olympic Champion then headed back to London's West End, where he was projected dancing above clubs in Soho.
Kerris Bright, chief marketing officer at Virgin Media, said: "The fastest man on the planet goes hand in hand with the fastest broadband and Usain is super-fast and super entertaining; the perfect embodiment of Virgin Media. Beaming Bolt's epic ultrafast victory lap is a unique and fitting way to mark his last ever 100m final and celebrates our long and continued association. Usain Bolt is a true running legend."
More: In May, Virgin Sport launched its Festival of Fitness in Hackney, welcoming an estimated 20,000 guests to the event.
Gallery: Virgin Sport stages election-themed race
Comment below to let us know what you think.