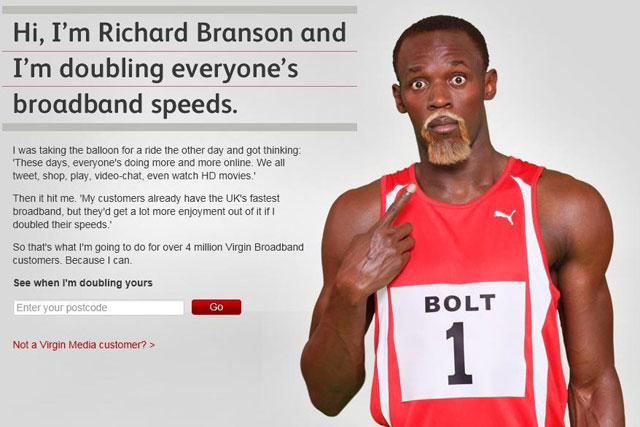 A message on Virgin Media's website featured Usain Bolt delivering "a message from Richard Branson", claiming he was doubling everyone's broadband speeds "because I can".
In addition a sponsored search listing stated "Virgin Media Customers...Richard Branson's doubling your broadband speed. Find out more".
Sky contested that the small print, saying broadband speeds would only be doubled in cabled areas and customers who already have a 100Mb connection would get a price cut instead of double speed, was misleading and contradicted the main claim.
Sky, along with two members of the public, challenged whether the "I'm doubling everyone's broadband speeds" claim in the first ad and "Richard Branson's doubling your broadband speed" in the search ad were misleading, because exclusions applied.
Virgin Media said in its defence that it did not believe the claims were misleading, or contradicted the main claim, because all existing 100Mb customers had been notified their speed would not be doubled.
It said in relation to other exclusions, it had made it clear that the doubling speed programme would take 18-months to complete, and they notified broadband customers that the upgrade would happen by area.
It added that it invited customers to the Virgin Media website to find out more information and they did not consider that their customers had been misled.
The Advertising Standards Authority upheld the complaints because the ad mentioned "my customers" it would be assumed the doubling claim would apply to all Virgin Media customers and the small text contradicted it.
Virgin Media, launched the Usain Bolt ad campaign, created by DDB UK, in January. It was the biggest campaign to date for the telecoms provider.