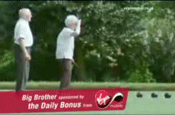 More Big Brother 9 idents below
The idents, created by Rainey Kelly Campbell Roalfe/Y&R, will run throughout the 13-week run of Big Brother on Channel 4. The first programme airs on 5 June.

The agency has created a series of documentary style films which show people using Virgin's service to do unexpected things. In one ad, a burly looking man is shown in a pie and mash shop with the voiceover: "Antony's Liberty SIM lets him keep the same mobile and number from the days when he was known as Cheryl."

Idents will feature a range of Virgin Mobile services alongside products from its handset partner, Samsung.

James Kydd, the managing director of marketing and brand at Virgin Mobile, said: "Last year's ads were either loved or hated and we wanted to cause a stir this year as well.

"Like the show itself, we wanted to make the Big Brother audience laugh but also promote Virgin Media's services the Virgin way."