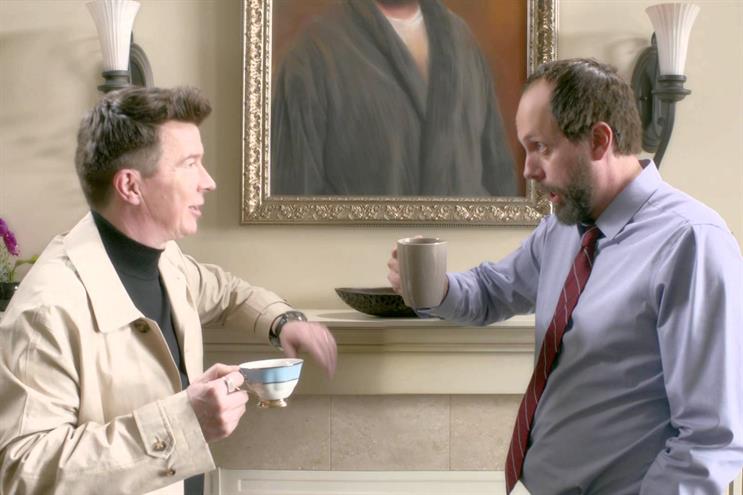 Managing cellular data plans for a family is always a challenge, and this ad from 180LA highlights Virgin Mobile's solution.

The phones (available exclusively at Walmart) allow parents to divvy up data between themselves and their children.

The spot in the "Do It for the Data" campaigns features family members trying to win their dad's favor, so he will give them more data in return.

The favor that impresses him the most is when 1980s pop crooner Rick Astley appears. Two other TV commercials in the campaign also feature Astley's 1987 hit "Never Going to Give You Up."
Campaign credits
Client: Virgin Mobile
Agency: 180LA
Director, Sprint Prepaid Group: Peiti Feng
Sr Manager, Virgin Mobile Brand: Ryan Rimsnider
Creative Director, Sprint Prepaid Group: Nick Holt
Managing Partner, CCO: William Gelner
Creative Directors: Mike Bokman and Jason Rappaport
Copywriter: Chris Elzinga
Art Director: Marcus Cross
Head of Account Management: Chad Bettor
Associate Account Director: Paul Kinsella
Head of Production: Natasha Wellesley
Senior Producer: Lindsey Wood
Business Affairs Manager: Ivy Chen
Production Co: B Reel
Director: Steven Tsuchida
DP: James Gardner
Founding Partner / EP: Pelle Nilsson
Managing Director / Executive Producer: Michael McQuhae
EP: Fran McGivern
Producer: Darrin Ball
Shoot Location: Vancouver, BC
Shoot Date: 2/11/15
Editorial Company: Hutch Co
Editor: Jim Hutchins
EP: Jane Hutchins
Colorist: Adam Scott / The Mill
Online / Finishing: The Mill
Sound Design / Mix: Rommel Molina / Barking Owl Sound