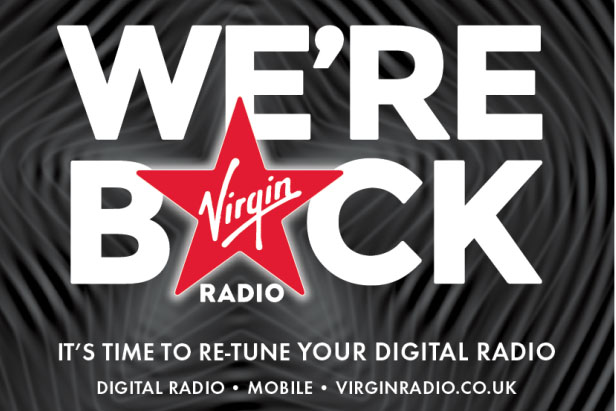 The stunt is to promote the station launching on DAB digital radio. Travis, The Feeling and Mystery Jets will be among the artists on the show at 11am on 30 March.
The train, which will be renamed Virgin Radio Star will travel from Manchester to London, stopping off at Crewe, Birmingham and Rugby.
Wireless Group, which also owns talkSPORT, announced last year that it was bringing back Virgin Radio, as well as launching talkRADIO, talkSPORT 2 and talkBUSINESS to provide "much-needed competition for the BBC in the area of speech radio".
The launch will also be supported by a campaign by Lionhouse Creative, which shows a soundwave-style background and the copy: "We're Back! It's time to retune your digital radio".
It will run across digital out of home, out of home and print channels.
The new station will play tunes from the 1980s and Britpop, as well as the latest artists.
A previous incarnation of Virgin Radio was rebranded to Absolute Radio in 2008.
Richard Branson, the Virgin Group founder, said: "Virgin is steeped in music history and I'm delighted that Virgin Radio is set to hit the UK airwaves once more. While many people thought the rise of digital would be the death of radio, it has instead enhanced the experience.
"We like to do things differently, that's why we're launching the new sound of Virgin radio with a live broadcast from a Virgin Train.
"With presenters like Edith and Matt on board and with music from some of Britain's leading bands, listeners are going to get a great launch experience. We're excited to be back."