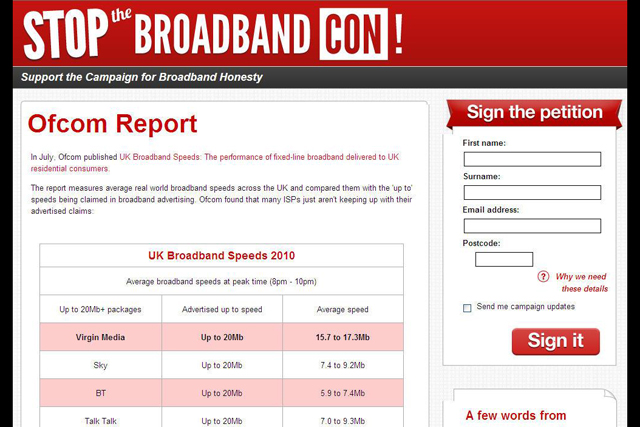 BSkyB and BT complained to the advertising watchdog about claims made on a website, Stopthebroadbandcon.org, which encouraged internet users to "Support the Campaign for Broadband Honesty".
Further text on the website said: "You deserve the truth from all ISPs and we're urging the Advertising Standards Authority to put a stop to misleading broadband advertising once and for all."
However, its appeal to the ASA has backfired on Virgin Media, with the watchdog upholding all eight complaints made by Sky and BT against its campaign.
"We told Virgin to ensure the basis of comparative claims was made clear in future advertising," the ASA said in today's ruling.
"We also told them to ensure their marketing material did not discredit or denigrate other marketers."
Virgin had told the ASA the campaign used the slogan "stop the broadband con" as a punchy description of the issue at hand. It was not intended as an attack on the integrity of other ISPs.
It also suggested that "Stop the Broadband Con" was not an advertising campaign but a website to help consumers check their broadband speed.
In its ruling today, however, the watchdog said repeated references to consumers being "conned" by their broadband providers "went beyond highlighting the disparity Virgin believed existed between advertised broadband speeds compared to those that were delivered and that it implied other ISPs dealt with consumers dishonestly in relation to broadband speeds".
The ASA said, in context, the site's referrences to consumers being "conned" gave an overall impression that was likely to be interpreted as relating to ISPs' wider business practices, nor had Virgin demonstrated that a faster connection equated to a better broadband experience in all instances for surfing the web and watching TV online, as it had claimed.
BT also successfully challenged the website claim "Ofcom found Virgin Media broadband is twice as fast as other providers".
The ASA ruled this was likely to be interpreted as an absolute claim and consumers would therefore expect Virgin to be in a position to demonstrate that was the case in all instances.
"The ad did not make clear that the comparison excluded BT's Infinity service," the ASA said.
"We concluded that it misleadingly implied Virgin could demonstrate that their broadband was twice as fast as other providers in all instances."
Sky successful challenged on the same issue and three further claims, including a misleading exaggeration of the benefits of faster connections and a Virgin claim to deliver around 90 per cent of advertised speed to customers, which the ASA called unclear, as it referred to typical average speeds, but was likely to be interpreted as suggesting all Virgin customers received around 90 per cent of the speed advertised, which was not the case.
Sky's final challenge came over Virgin's claim that "we don't use old-fashioned telephone lines but a modern fibre optic network".
The ASA said it acknowledged Virgin had amended the ad to make clear this claim was intended to refer to their cable broadband service but added that Virgin also provided an ADSL service, which did use telephone lines.
"In the absence of clarification of that, we considered the claim was likely to be interpreted as referring to all Virgin broadband services," the ASA said.
"We noted that Virgin stated the proportion of their customers who received the ADSL service was small; however, we considered that proportion constituted a significant number of customers.
"Because the ad did not make clear that not that all Virgin broadband services used 'a modern fibre optic network', we concluded that the claim was misleading."
Last July, the ASA asked the Advertising Code writing bodies (CAP and BCAP) to review broadband speed claims in ads as part of a wider look at advertising in the telecommunications sector. The review is expected in late summer.
A Virgin Media spokeswoman said: "Advertising 'up to' broadband speeds you can't deliver is a con.
"The ASA, Ofcom, numerous consumer groups and thousands of internet users have all reiterated our call for change and, instead of complaining about a legitimate effort to give consumers a voice in the debate, Sky and BT should step up to the challenge and start being honest about their broadband."
"Stop the Broadband Con was not an advertising campaign. The site enabled visitors to run an independent speed test, take a look at Ofcom's official broadband report, hear views on why 'up to' advertising needs to change and add their support."