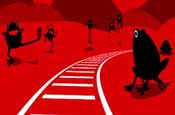 The TV campaign, which was due to break today, is now expected to launch in two weeks' time.
The work, created by Rainey Kelly Campbell Roalfe/Y&R, uses factual evidence to push the benefits of Virgin Trains. It proudly states that "Pendelino trains emit 76 per cent less CO2 than cars or domestic flights", and also highlights the merits of cheaper fares with advanced booking. There are three 20-second ads in total.
The campaign is typographically driven and uses a three-colour scheme of red, black and white. It closes with the strapline: "love every second".