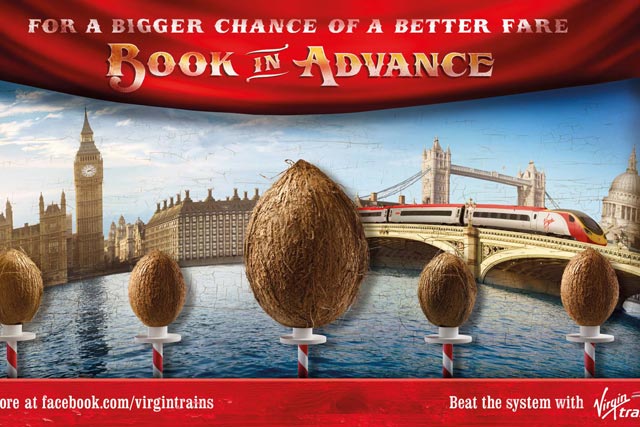 Developed by EdC-owned agencies Elvis and Dare, the campaign encourages customers to use as many tools as possible to get the cheapest possible train tickets.
Consumers are driven to Virgin Trains' online ticketing system, and shown a variety of games that highlight how cheaper tickets can be found.
The Facebook app replicates a series of familiar carnival games, which become easier with additional "tools", as a metaphor for using money-saving tools to find cheaper tickets.
Play without the tools and it's harder to win. The more tools employed, the better the chances of winning – a metaphor for the dry fact that the more money-saving tools employed when booking, the greater the chances of getting a cheaper ticket.
Annerie Hughes, head of marketing at Virgin Trains, said: "The new 'Beat the System' campaign encapsulates our vision of educating customers on how find the best ticket for them – it demystifies the complicated booking systems, with clear direction to the best ways of saving.
"We're very proud to have created an exciting new interactive Facebook app, which, I'm sure, will help inform people about our money-saving tools, as well as drive further awareness of the brand."
Virgin Media, last week, launched a new campaign, "A more exciting place to live", focusing on the ways digital media can enhance lifestyles.