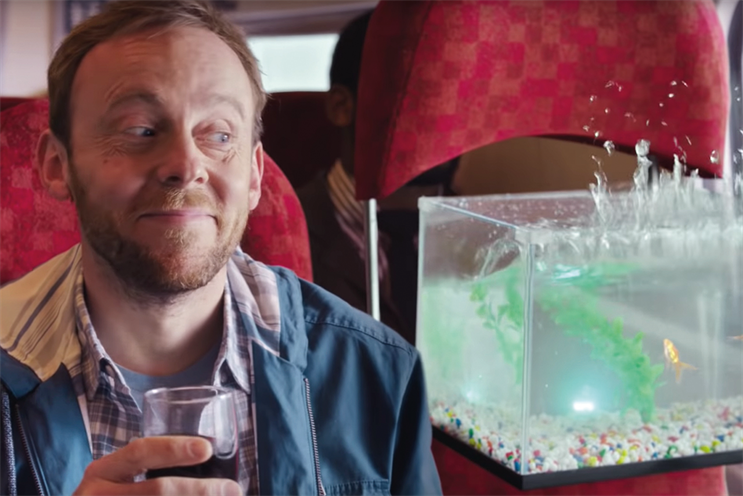 When it came to how best to bring the Virgin Trains customer experience to life, in the brand's particular tone of voice, two things were certain from the start: the campaign had to be built around TV; and the idea had to be distinctive and epic, according to James Rawlinson, interim marketing director at Virgin Trains, winner of the latest Thinkboxes award for "Very fast chair", created by Anomaly London.
The winning ad – a light-hearted attempt to imagine the perfect vehicle – features a man travelling to Wigan on a pimped-up bench that provides him with food, entertainment, company, a drinks service, a toilet and free Wi-Fi, as it travels on its own road. Eventually, the man is transported into a relaxing Virgin train, where a salad awaits.
The spot was directed by Keith Schofield, through Caviar. "TV is very important for Virgin Trains. It is a proven channel for brand awareness, brand consideration and other brand health metrics. It is the channel that delivers our strongest ROI and we find tens of thousands of new customers register their interest with us whenever we are on air, so it is also a great acquisition tool," Rawlinson explains.
"The idea was to showcase the entire customer experience – Virgin Trains' onboard film offering, its atypical food, its staff – and remind people why they love the brand while, at the same time, encouraging others to reappraise it. In this campaign, I wanted an idea that would celebrate our superior customer experience in a totally Virgin way."
"It turns out it's quite hard to assemble a six-metre long, four-metre wide monster bench truck"
Ben Robinson, creative, Anomaly London
With their Heath Robinson-inspired invention (complete with fully-operational flame-thrower loo), creative team Mike Whiteside and Ben Robinson did just that.
"What is a train, really? That's the question. There's a bit of baggage even around the word 'train', for various reasons. But when you break them down into their individual qualities, they're actually pretty great," Robinson observes.
Whiteside adds: "The truth is more powerful than anything, and the truth is that a train is a 125mph chair with crisps and the internet and waiters and toilets attached to it. After that divine inspiration, the script wrote itself."
Setting the comedic tone
The tone that Anomaly has developed for Virgin Trains, over a number of campaigns, has always been funny, so humour pervaded everything that was written and also influenced the choice of director. "Keith Schofield's really good at really funny, really visual stuff . We needed both of those skills and it turns out he has many, many more. Just like the guy in the ad, he did not stop bolting funny things on to the film until the last possible moment," says Robinson.
Schofield was closely involved in the design and construction of the chair, as an early stipulation by Rawlinson was to shoot as much as possible in camera, rather than rely on post-production CGI. "Building the thing was, arguably, the biggest challenge. We had no idea how the invented vehicle would look, nor did we have any clue how it could be built, or if any of this was even remotely possible in the time, and with the money, we had. Luckily, Keith worked most of that out for us," Whiteside says.
"So much of the humour in the ad was in how all these things appeared, and the mechanics of that also dictated the design of the vehicle so, it was an odd process with everything having to be figured out all at once," Robinson notes.
"

Don't be put off by an unbelievable or otherwise challenging script, so long as it is aligned to your brand or objectives

"

James Rawlinson, interim marketing director, Virgin Trains
The ad was shot in April in Ramsgate and the biggest challenge on the day was building the contraption. As it was a six-metre long, four-and-a half-metre wide monster bench truck, unable to be transported in one piece, it had to be assembled on site. Post-production was all about making it look as though little, if any, post-production was needed, according to Whiteside.
"All the right comedy beats were hit with expert precision," Robinson adds. "Keith's animatic was a useful guide as he'd planned all the shots precisely. Besides whether the vehicle would stay intact at high speed, not a huge amount was left to chance."
"

The truth is that a train is a 125mph chair with crisps and the internet and waiters and toilets attached to it

"

Mike Whiteside, creative, Anomaly London
Looking back, Rawlinson says the greatest challenge was securing internal stakeholder buy-in, given the boldness of the idea and the fact it was unlike any of Virgin Trains' previous TV ads. "I look for a number of things in a script," he explains. "Does it amplify our brand values? Does it meet our internal benchmark: 'screw average, create amazing'? Does it deliver all our customer benefits? Can it be easily understood, will it connect? Is it going to be talked about? Will people love it and remember it?"
Rawlinson concludes: "There's such comedy value that runs throughout and even after repeated viewing, it still makes me chuckle."
THINKBOXES AWARD WINNER MAY/JUNE
Creative agency Anomaly London
Creatives Mike and Ben
Client Virgin Trains
Production company Caviar
Director Keith Schofield
Also shortlisted this month...
"Three Lionesses" (Grey London for Lucozade Sport)
"Heads" (Abbott Mead Vickers BBDO for Stroke Association)
"Best Ever Fan" (Abbott Mead Vickers BBDO for Walkers)
"GoodBagels" (Engine for Warburtons)
---
The Thinkboxes, in association with Campaign, are the only regular awards that celebrate the UK's world-beating TV ad creativity throughout the year. They're judged by the Thinkbox Academy – 200 advertising and marketing luminaries who have been involved in award-winning creative work for TV.
To see the winning ad and shortlist, visit The Thinkboxes.
Want to see more great work? Head to the Thinkboxes hub