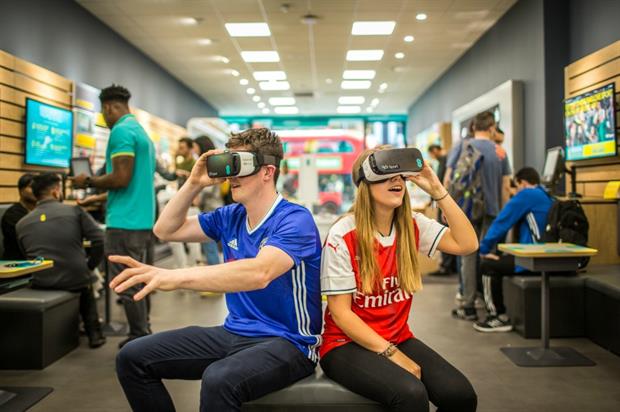 The new neuroscience-informed research report has revealed how the power of VR platforms presents marketers with "incredible potential" for consumer engagement.
VR viewers were emotionally engaged 34% longer than when they view the same content in 2D and 16% longer than when they viewed the same content in 360-degree video on a flat screen.
The research featured content from an entertainment advertiser and the Las Vegas Convention and Visitors Authority (LVCVA).
Consumers experienced the content, which originally was developed for highly immersive platforms, in three distinct environments – mobile VR, 360-degree video on a flat screen and flat, two-dimensional TV screens.
Content on VR produced the highest emotional engagement. But, according to the research, it also reinforced the challenges in connecting consumers with key branding moments.
Paul Neto, senior director, research, YuMe said: "Our research with Nielsen shows that VR and 360-degree video, done correctly, provides a very high level of viewer emotional engagement.
"It also shows there are no shortcuts to the most effective video engagement - VR and 360 experiences are at their most effective in driving audience engagement when content is of very high quality and content developers leverage the specific strengths of each format.
"By putting the audience first, and focusing on creating an immersive and highly engaged experience, brands have the opportunity to realise higher levels of engagement and greater branding success."
"Brands have more platforms than ever on which to connect with consumers, and this study showcases how virtual reality presents a unique opportunity to deliver a highly-engaging experience with the right content," said Dr. Carl Marci, Nielsen's chief neuroscientist.
The Nielsen neuroscience team studied 150 participants' emotional responses with eye tracking and a biometric monitoring device measuring electrodermal response and heart rate changes.
In September BT Sport offered people the chance to see the Premier League football clash between Chelsea and Arsenal live in virtual reality (VR) in four flagship EE stores in London.
Earlier this month Chicago craft beer Goose Island hosted a multi-sensory experience within Tesco stores, combining virtual reality with sampling.
For your daily hit of news from the brand experience community, weekly brand and inspiration updates or your monthly trend download, register and subscribe to Event and our bulletins.