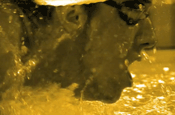 Visa 'go world' by TBWA/Chiat/Day

The TBWA/Chiat/Day ad is part of Visa's 'Go World' campaign. It features footage from Phelps' victory in the 4 x 100 freestyle relay, taken one day before its release.

Agency executive creative director Rob Schwartz said it was a coup integrating footage of Phelps' victory into a spot less than a day later.

The idea of celebrating a Phelps victory started in April, and the agency bought media time because it was convinced Phelps would win.

Phelps' ad, which will run in the US, follows in the sepia-toned theme of its current Olympics campaign.