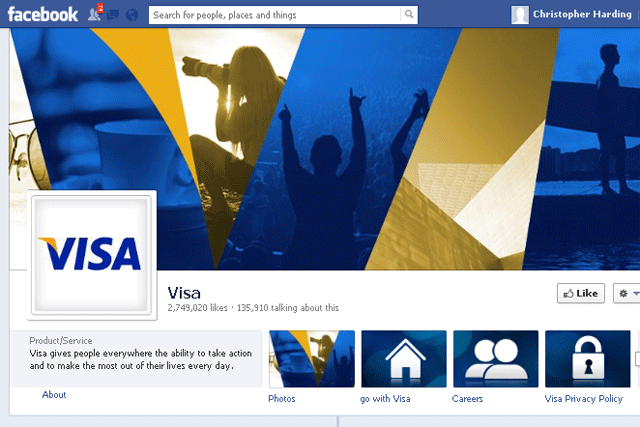 The quarterly iProspect Engagement Index analyses the level to which people interact with 250 UK brands on Facebook.
Rather than just measuring the number of "likes" a brand has, it combines data from Facebook's "people talking about this" metric, to create an engagement score.
Visa, a worldwide sponsor of the London 2012 Olympics, which started at the end of July, had a brand engagement score of 13.8%.
The agency said Visa's 57-place rise since the last ranking was helped by the Olympic activity on its Facebook page, which included an application for its 'Go World' campaign.
Other Olympic sponsors with increased engagement include Panasonic, up 157 places to eighth place; BT, up 137 places to 17; British Airways, up 72 places to 20, and Samsung, up 140 places to 24.
It is not clear how Adidas performed, as iProspect declined to disclose this information on its client.
Thomas Cook (a tier-two Olympic sponsor) and O2, were the only two brands to retain places in the top 10 from the previous ranking in May, while none of the top 10 from February's ranking feature, which seems to illustrate the difficulty of maintaining engagement.
UK Brand Pages (10k+ fans)
Brand
Fans
Engagement %
Visa
1,524,479
13.80%
P&O Cruises
119,297
13.20%
Reebok Classics
116,277
12.40%
Thomas Cook
90,235
12.30%

Waterstones

38,039
11.70%
Lexus
11,465
9.80%
Kenco
42,521
9.50%
Panasonic
83,022
8.10%
Thomson
52,473
7.50%
O2
541,590
7.10%
Phillip Dyte, paid social media planner, at iProspect said: "'Social media is a pretty noisy stadium, and what the Olympics provided was an opportunity for brands and sectors that might normally struggle to be heard.
"Visa's hard work and ambitious campaign should be a great inspiration for other brands wondering how social media can work for them. Visa, and other sponsors, seized the moment in the right way to connect with their audiences.
"They were all rewarded with big quarter-on-quarter rises in their engagement rates – now it's time to make the most of that momentum."

Marketers have long complained about the "like" button not being an effective metric for Facebook, particularly since the practice of buying "likes" as a way to boost fan numbers has been on the rise.

Last month, Facebook said it was cracking down on this practice, by tightening its security systems.
Follow @shearmans