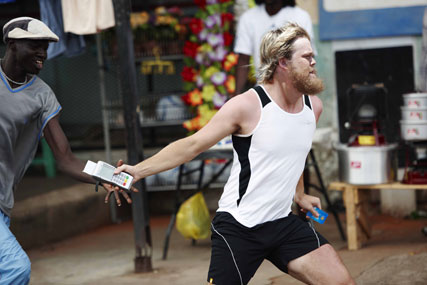 The number of transactions from June 1 to July 11 was 2.2m up 79% from approximately 1.2 million during the same 41 days in 2009.
Visa spending data indicated the greatest percentage of contributors came from the United States with 19.05%, followed by the UK with 19.0%, Australia 4.7%, Brazil 4.2% and France 3.4%.
Earlier this year Visa Europe launched an above-the-line campaign to promote its sponsorship of the World Cup, which followed the theme of Visa's 'Running Man' spot.
It showed the journey of an overweight man, first seen watching football in his living room. As he runs, buying items using his contactless Visa card, he slowly loses weight, until he arrives at the game in an England-style white and blue kit.
Antonio Lucio, Chief Marketing Officer for Visa Inc said: "As a first time sponsor of the Fifa World Cup, we're very happy with what this has done for our business.
"It has driven business growth – increasing transactions, building our brand and providing business development opportunities for our partners."
Visa is one of six global partners of Fifa, with exclusive global rights in the Financial Services product category through to 2014. Other global partners of Fifa are Adidas, Coca-Cola, Emirates, Hyundai Kia Motors and Sony.
Visa was confirmed as global sponsor of the 2010 and 2014 Fifa World Cups in 2007 following Fifa's $90m (£45m) payout to settle its legal dispute with incumbent sponsor MasterCard, which claimed it should have been given first refusal on the deal.
In May Marketing revealed that Visa is planning to create its own ad-funded TV series following British athletes in the build-up to the London 2012 Games.
Visa would run the show as part of its Team 2012 deal with UK Sport, under which it is "presenting partner" of the British Olympic team.