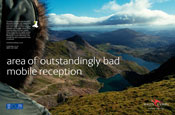 Visit Wales is approaching agencies with a view to holding a pitch for its £6 million account.
The review will officially begin next month following a round of chemistry meetings with a number of longlisted agencies.
The account has a budget of between £5 million and £6 million a year, with the prospect of an increase in 2008.
The incumbent on the business is Wieden + Kennedy. The agency was unaware of the forthcoming pitch.
The winning agency will begin work on the business at the start of next year. It will be briefed with promoting the Principality to people outside of Wales, but also raising its profile and attractions to the Welsh population.
The brief will not only include above-the-line duties, but also digital and below-the-line elements.
It is unclear how this will affect Partners Andrews Aldridge, the incumbent in the DM business.