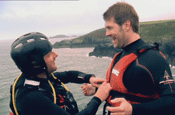 The incumbents, Wieden & Kennedy London and Partners Andrews Aldridge, are set to repitch for the business. Meanwhile, Visit Wales has invited non-roster agencies to tender through OJEC.
Visit Wales initially called a review in October 2007 for its separate advertising, direct marketing and digital marketing accounts. It halted the review last February pending confirmation of its level of European Union funding.
The company is now looking for an agency that can offer all three disciplines, or for advertising and direct marketing agencies to pitch as a partnership.
The winner will create UK and international campaigns to boost tourism for Visit Wales. It may also produce campaigns for other WAG departments, such as International Business Wales.
Further campaigns could focus on promoting business travel or specific events, such as the Ryder Cup in 2010.
The most recent W&K Visit Wales TV campaign, "holidays unpackaged", broke in January and was fronted by the Welsh comedian Rhod Gilbert. It promoted local attractions, such as cliff jumping and wine tasting.
Partners Andrews Aldridge produced direct work for the campaign, using the endline "Try something new(ish)."