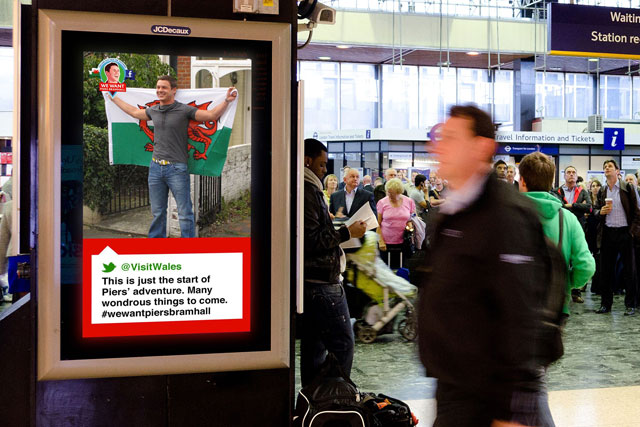 In August Bramhall was doorstopped by a Welsh choir and 'Gavin & Stacey' star Joanna Page who invited him to take a free holiday with his girlfriend to Wales as part of an ad campaign by Wieden+Kennedy.
Foley was chosen from 300 women who entered a Facebook competition. The winning couple will visit destinations that were suggested by Welsh tweeters who replied to @wewantpiers.
Production company Bigballs is filming Bramhall and Foley's trip around Wales this week. Edited highlights will run across CBS Outdoor's sites on the London Underground and JCDecaux sites at major rail stations across the UK.
The Visit Wales Facebook page (which has 190,085 likes) and Twitter account are being regularly updated with news from Bramhall and Foley's trip.
The creative directors on the campaign were Dan Norris and Ray Shaughnessy and media planning and buying was by WPP media agency MediaCom with its sister out of home agency Kinetic.
Hannah James, marketing manager at Visit Wales, said: "We had the brief to communicate Wales in autumn as a really vibrant place with lots happening and an exciting option for a break this season.
"The ability to live broadcast an action-packed trip that a real couple are experiencing is a great way to do this. The creative vision of Wieden+Kennedy, production capabilities of Big Balls and technology of Grand Visual have made this possible."
Digital out of home production specialist Grand Visual is coordinating the video updates and live news feed though its ad serving platform OpenLoop, which can manage copy across all major UK digital out of home networks.