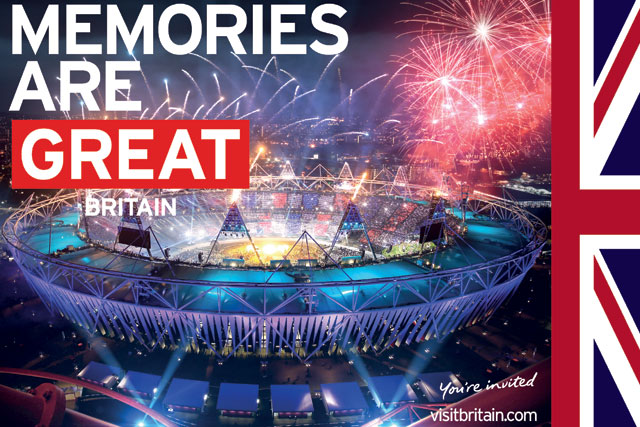 VisitBritain director of marketing Laurence Bresh planned the campaign featuring a series of brand partnerships and its long-awaited 007 activity, to start as soon as the Paralympic Games ended in order to amplify positive perceptions of Britain abroad.
The campaign strategy comprises three main strands: a £5m marketing partnership with BA; an extension of the current "great" campaign, which pushes VisitBritain's original 'You're Invited' strapline back to the fore; and a new ad called 'Memories are Great' that contains footage from this year's Games.
The 'You're Invited' leg of the campaign will be supported heavily through social media, while VisitBritain's current partnership with Yahoo will provide digital support for the new campaign, including advertorial coverage.
Alongside this VisitBritain has launched a seven-month print campaign to run in National Geographic and Time Out.
A series of tie-ups with travel brands, including Expedia, STA Travel and Virgin Australia, will provide further promotional offers across a wide consumer base in key markets.
The BA partnership will focus on the US, India, China and Japan, with promotional activity running in print and across digital platforms, including British Airways' and VisitBritain's own sites.
Additional activity will include advertising in the Middle East and Asia Pacific to entice tourists to come to the UK for their Christmas Shopping and the January Sales.
Finally, VisitBritain will roll out its eagerly-anticipated 'Skyfall' activity, capitalising on its partnership with Sony around the latest Bond film.
The work will invite tourists to "experience the Bond lifestyle" with promotions for London, England and the Scottish Highlands, which feature heavily in the film.
Bresh said: "The main event may be over, but the hard work now begins if we are to capitalise on the momentum generated by the London 2012 Games and ensure that we do not miss this extraordinary opportunity to create a golden period for British tourism.
"Britain's image and reputation around the world is riding high, that's why we've immediately launched the next stage of our 'Great' campaign so that we can convert worldwide interest into increased bookings.
"We've captured the world's imagination on TV screens during the past few weeks, and now is the time to inspire them to come to Britain to receive the warm British welcome they have seen throughout the Games."
Last month former culture secretary Jeremy Hunt announced a £8m marketing boost to VisitBritain to carry the 'Great' campaign into the Chinese market.
Follow @loullamae_es