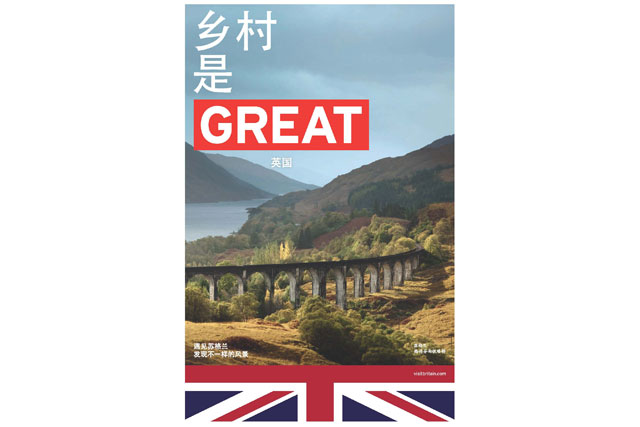 The image of Brand Britain has never been stronger on the world stage. Now Culture Secretary Jeremy Hunt has set the tourism bodies, which strive to promote that image internationally, a fresh challenge: to attract the growing numbers of Chinese travellers.
Hunt announced last week that he is allocating an extra £10m to the UK's tourism budget to help 'turbocharge' the industry. In addition, tourism body VisitBritain is to receive an additional £8m next year to plough straight into activity targeting the Chinese market.
Groundwork needed

Speaking to Marketing, Sandie
Dawe, chief executive of VisitBritain (pictured, right), says that relationships must be built up with the Chinese market. 'The key to China is getting the travel agents and tour operators to put Britain in the brochure in the first place.'
The opportunity, she says, is enormous.
As Hunt points out, by 2030 China will have about 1.4bn middle class consumers, 'creating a potential market four times bigger than America'. His aim is to treble the amount of incoming Chinese tourists to 500,000 by 2015.
The UK is not alone in fighting hard for its slice. Italy, France and Germany already attract significantly more Chinese tourists than the UK, according to Breda Bubear, head of global advertising and communications at Virgin Atlantic (see below). Competition from further afield is also rife, with countries such as New Zealand targeting Chinese consumers with dedicated campaigns.
Broader horizons
As China makes the transition from 'one of the world's largest producers of things to one of the world's largest consumers of things, especially luxury goods', those tourists will be looking to broaden their travel experiences, explains Tom Adams, head of future consulting at FutureBrand, which creates the annual Country Brand Index.
'The growth in China's middle class is leading to a great deal of tourism around consumption, be it travelling to Paris for Louis Vuitton or Italy for Gucci; it's about the authentic experience,' adds Adams. 'While I expect shopping tourism to continue, they will also look for other reasons to travel more. Brand UK's strongest areas are heritage and culture.'
Tailoring the message
Seizing on this opportunity, VisitBritain and the DCMS' 'GREAT' campaign will be further extended into China next year, although this time with ads tailored to the market. It will push messaging relating to the campaign's seven key themes of culture, heritage, music, sport, shopping, food and countryside.
Dawe hopes the glow of 2012, from the Olympics and Danny Boyle's opening ceremony to the Diamond Jubilee, will continue to radiate out, shifting Britain's international image from a 'stiff-upper-lip' nation to a 'friendly' destination, filled with 'humour, creativity and energy'.
The question is whether the growing Chinese middle class even wants to engage with the 'new' image of Britain.
BRAND VIEW
Breda Bubear, Head of global advertising and communications, Virgin Atlantic
From the start of the year we have been building a story of 'London by Virgin Atlantic' in our markets, with a particular focus on Shanghai, Tokyo and Hong Kong. We plan to capitalise on the halo effect of London being seen on the global stage to encourage people to visit the city post-Olympics. We have also localised our service for the Chinese market and recently recruited another 20 international crew members from Shanghai to ensure we provide the best service to keep Chinese customers coming back for more.
Recognition from the government that more needs to be done to boost inbound tourism from China is welcomed. It is a key market for Virgin Atlantic, but big issues need to be solved to attract more tourists: the lack of capacity at our UK airports, which is stunting growth into other economic centres in China; an expensive visa process; and an ever-increasing APD tax, which encourages Chinese tourists to fly to (mainland) Europe (instead).
In 2010, 3m Chinese tourists came to Europe, but only 127,000 visited the UK. Italy, France and Germany each attracted between 500,000 and 700,000.
We need bold and brave policy decisions to address these issues if we are to compete with other European countries.