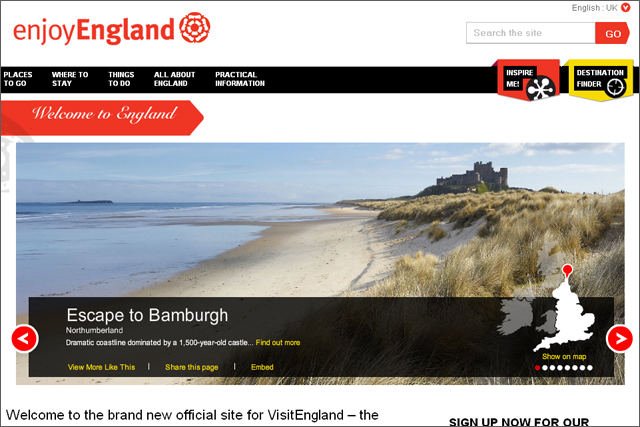 The funding, awarded to VisitEngland by the Department of Business, Innovation and Skills, will go towards a national campaign to "inspire Britons" to take more short breaks and holidays at home with the aim of growing jobs in the tourism sector.
VisitEngland's application for £20m in funding has been approved, although the amount it will get depends on due diligence yet to be carried out by the RGF.
VisitEngland will work with private sector partners to match fund the grant from the RGF, capitalising on the one-off events happening in England over the course of next year, including the Olympics, the Torch Relay, the Diamond Jubilee and the Cultural Olympiad.
VisitEngland told Marketing in September that it aims to create national "pride" among consumers with activity planned for 2012.
The funding will be allocated to a number of destination partners in England that will work closely with VisitEngland to design and implement local campaigns, including Marketing Manchester, Bath Tourism Plus and Visit York.
Targeted activity in these areas will be accompanied by a series of thematic campaigns that focus on countryside, heritage, coastal and business tourism.
James Berresford, chief executive of VisitEngland, said: "This is a huge boost for VisitEngland as the country's national tourist board, working in partnership to facilitate growth at a local level, and an acknowledgement of the value of our industry to England's economy.
"With this additional money we can mount a serious campaign to stimulate domestic tourism that has the potential to create the equivalent of 9,500 full time jobs in areas across the country suffering economic challenges."
Follow Loulla-Mae Eleftheriou-Smith on Twitter @LoullaMae_ES