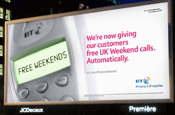 The new strategy could include the UK, where outdoor buying for the Publicis networks, Starcom MediaVest Group and ZenithOpti-media, is handled through the WPP-backed Kinetic and the ?Aegis-owned Posterscope, respectively. VivaKi's UK clients include BT and O2.

However, sources indicated that VivaKi's plans are more likely to focus on investment in outdoor resources in markets such as France, Italy and Spain where it has less developed arrangements.

Kevin Shute, the former sales director of poster companies Mills & Allen and Van Wagner, has been working on a consultancy project for VivaKi and is currently presenting his findings to its management.

This is likely to result in either closer alignment of VivaKi with one or more of the outdoor specialists, or the launch of Publicis-owned services in the outdoor buying space.

A decision is expected by the end of the year.

VivaKi sources said that the second outcome, with the business moving out of Kinetic and Posterscope and into a standalone VivaKi operation, remained a possibility in the UK.

However, they indicated that barriers exist, especially the financial investment and management time which would be required to launch an outdoor specialist arm.

One Starcom MediaVest source added: "To jump ship out of Kinetic in the UK raises the question: 'where would we jump to?' The relationship is strong and effective and unless there was something out there to buy, it's hard to know where we can go."

Discussions with Kinetic and Posterscope are ongoing.