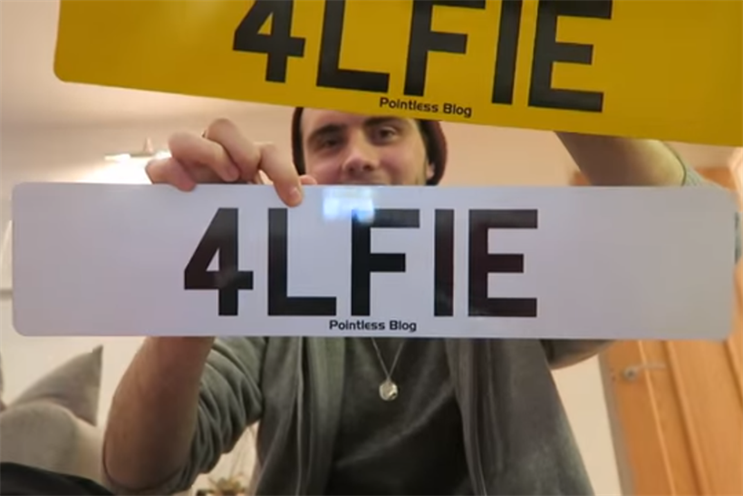 The initiative, launched earlier this year, saw Deyes pass his test thanks to lessons provided by Direct Line, after years of being mocked by fans for not being able to drive. The resulting campaign will involve five monthly videos, following Deyes' progress as he drives insured by Direct Line's telematics policy - which uses a device called DrivePlus to monitor the driver's speed and handling.
Direct Line Group's marketing director Mark Evans says the response to the first instalment of the campaign took them by surprise. "A couple of days in, we had 50,000 views on our channel and 500,000 on Alfie's," he says. "We got more views in three days than in the last six months."
Evans believes telematics will completely transform the industry, reducing the need for profiling customers - but says the technology needs to be communicated better. That's where Deyes comes in: he's hugely influential with his 5m predominantly teen and young adult subscribers, exactly the group that can benefit from this approach.
"Telematics is already established - you drive well, you get a discount," he says. "But the marketing so far has been on that basis, sort of transactional. We wanted to take it to the next level, which is to genuinely change behaviour.
"All the behaviour change hypotheses up to this point would be that you scare people - but if your brain is not wired in that way in the first place, that's pointless, and could potentially incentivise the wrong behaviour. So what we needed to do was find a different way through to that demographic.
"Alfie is someone who can talk to that generation in a sort of peer to peer way. He effectively becomes a coach - we coach him, he coaches others. As such, we hope that people will have a different perception in those early days of driving, of being eager to learn rather than eager to impress."
There will be smirks
Paying people to loosely talk about your brand in a relatively comedic way in videos might seem like nonsense to some people
Influencer marketing is pretty fraught at present - a recent study found that more than half of marketing and PR professionals admitted to flouting the UK's official code. Evans is appalled by this - describing those attitudes as "pretty outrageous" - but believes that as long as the client knows what they are doing and follows the rules, the challenges are not so different from those of traditional media.
"I've met a few vloggers, and the interesting thing is that while appearances are different, fundamentally everything else is the same," he says. "They're professional - if you watch Alfie, he's very good at saying this is on behalf of Direct Line, but doing it in a way that's seamless."
A bigger concern is the unpredictability of your results - which can make campaigns like this harder to sell to certain colleagues. "Virality is what you aspire to, but it means by definition you're less in control," he explains. "And internally, it's a bit different. For internal stakeholders, to get people comfortable - you're bound to get a few smirks.
"Our senior stakeholders still watch TV and listen to the radio, and the context of advertising in those media is established. To be paying people to loosely talk about your brand in a relatively comedic way in videos that might seem like nonsense to some people - it's a very different platform.
"The flipside is that it's easy to be seduced and misuse the medium. It's great when these people can act as role models and have a lot of plausibility, but you can also be a bit gratuitous.
"As ever in marketing, it's about the idea holding up to inspection, a good association and a compelling logic that flows all the way through, rather than doing it for the sake of it."
A sheep in Wolf's clothing
That 'compelling logic' is something Evans has tried to apply to every other element of Direct Line's marketing activity, not least its acclaimed Harvey Keitel-starring Winston Wolf TV campaign by Saatchi & Saatchi, the eighth instalment of which broke earlier this month. Evans says this one - concerning an unlucky gentlemen needing to have his ballcock removed - has pre-tested as the best of the lot.
"We have seen a transformation in the effectiveness of our advertising," says Evans. "It cuts through, it resonates, it lands the message, it's well liked, it's humorous, it's really got an awful lot going for it.
"I think it's going to be the most successful campaign I've ever been involved in in my career. It has step changed our business performance - we are now number one in the market again on brand preference - and internally, it's really acted as a lightning rod for employee engagement with the brand."
The TV ads have been supported by a number of kooky sidelines, which Evans is adamant are still focused on driving home the brand's positioning - that it is a 'fixer' that gets things done. Last Christmas, the brand offered free "turkey protection" to anyone in a South London catchment area who signed up to a bespoke website.
Evans sees this sort of initiative less as a headline-grabber, and more a valuable way of getting across something that is difficult for insurers to communicate. "People claim maybe once every ten years on average," he explains, "so they don't know if it's going to be any good until it's too late.
"The fact that we can replace burnt turkeys on Christmas day doesn't necessarily mean that we're brilliant at fixing pipes when they burst, but it's a good metaphor for the consumer to understand our intent."
Last month, the brand turned its fixing abilities to non-league football, arranging for former England international Stuart Pearce to train with and play a game for Longford AFC, who became known as the worst team in England, with a goal difference of -190.
Sunshine and lollipops
Direct Line might get the edgy black humour and loud stunts, but Churchill, the group's other main brand, has not been neglected - it is currently spearheading a campaign to revive Britain's lollipop men and women, who have "disappeared in droves" since legislation changed in 2000, meaning it was no longer a legal obligation for councils to provide them.
Evans says the campaign, which is the basis for a TV spot launched this month starring Robert Webb, is a way to highlight the distinct qualities of the Churchill brand.
"If Direct Line is the very rational, problem solving brand, then Churchill plays in a more emotional space," he says. "It will be on your side, looking out for you.
"Every year there are many thousands of incidents of children on the road and many of those happen outside school gates. So this campaign is a way to demonstrate that we care about people, we care about society."
Leave aside the vloggers, Pulp Fiction characters and lollipopping comedians, and conventional marketing wisdom says insurance isn't a very sexy industry. But for Evans, it has its own esoteric charms.
"It's really fascinating as an industry, for all its oddities," he says. "Having worked in the consumer goods world, it's just so much more multi-dimensional. It's intoxicating in fact, because it's so complex."