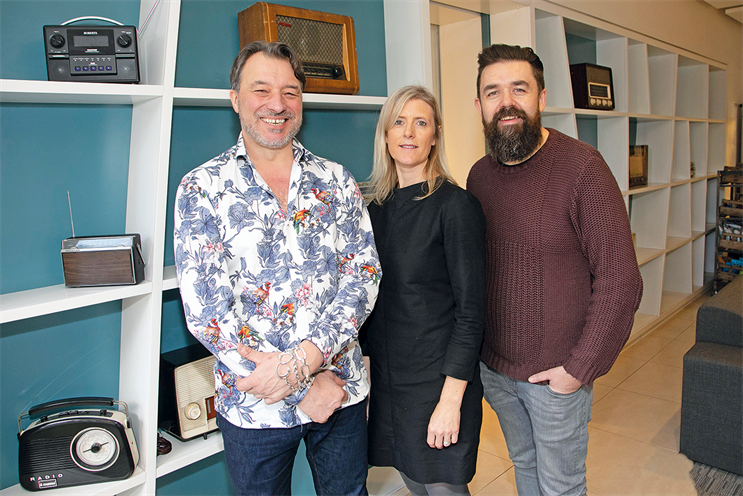 Winners: Simon Forster (left), regional CD, Christianne Ward (middle), sound designer and Justin Saunders (right), head of production (creative) at Global Creative for "The Incident 3D" for West Midlands Police

Kapadia: I chose this ad because...
… "It won't happen to me." Probably the thought that runs through the mind of every kid who decides to keep a knife.
The knife isn't a magical wand. It can end up becoming a weapon against you, rather than the intention you may have had.
This campaign for West Midlands Police paints a great 'audio' picture for the dangers of carrying a knife. Rather than telling me what could happen next, the sound design let me feel it. Transporting me to the crime scene, in the victim's shoes.
From the nominated ads this month, this one took me to a different place. It shook me up to an extent and left me thinking… how I would never, ever, want to be there.
How would you encourage creatives to 'See radio differently'?
Transport listeners to another place
Radio is the perfect opportunity to paint a picture that would blow most TV budgets. One that can go as far as your listeners' imagination and how you take them there. Use that to bring your idea to life and evoke any emotion you need.
Context is everything
Think about where your listeners may be. In the car? On the street? At the gym? How can you use their environment and time of day to make this even more relevant and efficient?
Think craft
You have three things to worry about: the idea; the script; the craft. You may have the best idea in your head. That idea needs to register with the listener. You could be silent. You could write a musical. Or you could paint a scene in words. Whatever it may be, craft it. Don't get lazy
Winning ad: West Midlands Police "The Incident 3D"
BINAURAL: You're in an alleyway. You're part of an argument. A friend is with you. And a girl is with the person who's arguing with you.
Male VO 2: Why y' followin' me? Why y' followin' me?!
Female VO: Stop. Leave 'em. Let's go.
Male VO 3: Mate, I got you.
FVO: Reece, NO.
MVO2: What's that?! AGH!
MVO3: Run!
BINAURAL: You hear your friend ahead, running. You're running. Everything has gone wrong.
MVO: West Midlands Police want you to know this is what it sounds like when you carry a knife. If you're there when a friend pulls a knife, you're involved. Life or knife. The choice is yours.


Credits

Creative agency/Production co Global Creative
Client West Midlands Police
Writer Tom Heinsohn
Producer Richard Poulton
Sound designers Justin Sanders, Christianne Ward
Could you do better? Enter your work at aerials.co.uk
The Aerials are awarded monthly by Radiocentre to the creative team behind the best work entered at aerials.co.uk and chosen by an invited creative-director judge.