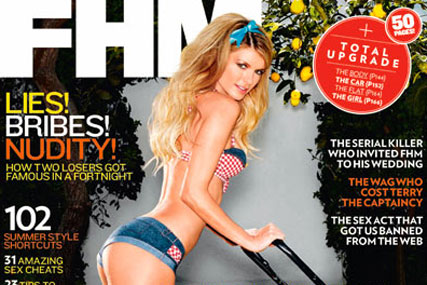 It will embark on the strategy with a six-figure sponsorship of FHM magazine's '100 Sexiest Women in the World' poll, now in its 17th year, through its VO5 Extreme Style range of hair-styling products.
This is the haircare brand's first marketing activity since it was announced in September that FMCG company Unilever is to acquire Alberto Culver in a $3.7bn cash deal.
Alberto Culver also owns the TRESemme and Simple hairand skincare brands.
VO5's tie-up with Bauer Media's FHM will include promotional activity across print, TV, online, radio and mobile platforms, as well as retail, culminating in the FHM 100 Sexiest Party next May.
The deal kicks off with the March issue of FHM, to be published in February.
The tie was struck through Bauer Media's Access offering, a fresh initiative intended to enable brands to make the most of the publisher's multiplatform assets.
Bauer Media is developing a campaign to promote the partnership, including in-store activity.
Richard Whitty, brand manager for VO5 Extreme Style, said the deal elevates VO5 Extreme Style's relationship with FHM, which has previously taken the form of print ads and advertorials, and is part of a push to expand brand awareness among its target 16- to 24-year-old male audience.
'We know how important credible endorsements and partnerships are, and the FHM and VO5 Extreme Style brands are a perfect fit,' said Whitty.
The next series of Bauer Access workshops will start in January. The events are intended to give brand marketers and their agencies open-access to the publisher's editors, programmers and creators of content. The eventual aim is to allow them to build 'deeper connections' with audiences.
In July, Alberto Culver split its global media duties, worth an estimated £150m, between WPP-owned Maxus, which picked up the US business, and Aegis Media's Carat, which retained the European account.
In 2008, VO5 promoted its Extreme Style range with a £3m campaign, by Euro RSCG, as it sought to improve brand perceptions among younger consumers.
The 'Break the mould' ads featured young people on an army base rebelling by using the product to style their hair in unconventional ways. Recent ads show young people dissatisfied with their hairstyle removing their heads to improve their look with the product.
In my view Expert comment
ARUM NIXON, Client investment director, MediaVest
This is a great opportunity for a brand to associate itself with a property that has been around for years, and has great credibility with the young male audience. The content lives far beyond the pages of FHM and will be highly engaging across multiple platforms.
It will be interesting to see how VO5 brings it to life and uses the asset fully to ensure that they are seen as true partners, as opposed to a simple badging exercise.