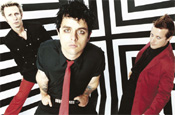 Vodafone, which already has deals with Universal Music, Sony Music and EMI, said it is the first mobile operator to secure rights from all four major labels for DRM-free over-the-air downloads.
Its service gives subscribers access to downloadable tracks in a digital rights free format -- meaning they can be played on a number of devices.

Vodafone said it will work with Warner Music, home to artists including REM, Green Day and the Red Hot Chili Peppers, to offer not just music but also bundles that will include multimedia content.

Pieter Knook, internet services director at Vodafone, said: "The response to the DRM-free offering in all the markets where it has launched has been incredibly enthusiastic. Our customers love music and they love the flexibility that DRM-free on mobile gives them."

Warner Music's inventory is available now on Vodafone, with a total of 1 million tracks to download. Vodafone presently offers the service in the UK, Germany, Italy, Spain, Greece and Ireland, with other countries to be added soon.