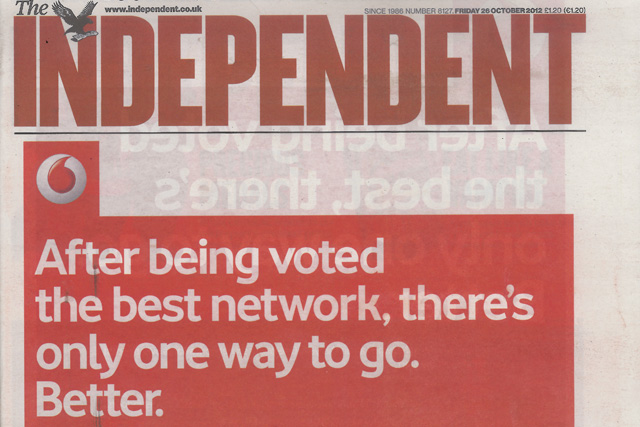 The marketing offensive forms part of Vodafone's 'Better' campaign.
Sources close to Vodafone are claiming the press activity, which will be complemented by an outdoor campaign, is valued at around £4m.
The bold red cover wrap ad in one the papers reads: "After being voted the best network, there's only one way to go. Better."
Vodafone's marketing drive is intended to gatecrash the EE party.
EE, which owns the Orange and T-Mobile brands, has stolen a march on its rivals after it was granted permission to become the first telecoms brand to launch a 4G network. It will do so on 30 October.
Vodafone has been critical of Ofcom's decision to award EE the right to launch the UK'S first 4G mobile internet service. It believes this gives EE an unfair advantage in the market.
Vodafone's press campaign was brokered by its media agency OMD.
TMG – publisher of The Daily Telegraph – claims the Vodafone cover wrap means it is the first quality daily broadsheet to carry an advertising cover wrap on full newspaper stock.
Cover wraps are becoming increasingly popular with national newspapers, as they attempt to up revenues with commercial tie-ups.
Today's activity marks the first time the Independent, i and The Guardian have run commercial cover-wraps. The Daily Telegraph, though, has run a translucent cover-wrap before.
In July, BSkyB is thought to have paid around £600,000 to become the first advertiser in The Sun's 42-year's history to be allowed to run a cover wrap around the newspaper.
Follow @johnreynolds10