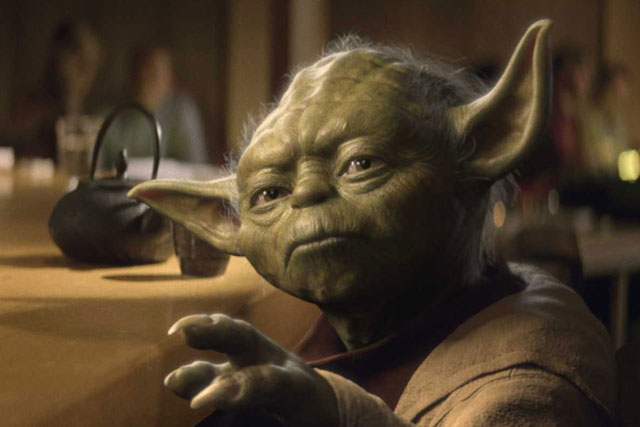 The campaign, created by Rainey Kelly Campbell Roalfe/Y&R, launches tomorrow (19 January), with a TV ad showcasing Vodafone's 'Red Box' service, enabling customers to switch contacts between handsets in store.
The 60-second spot features 'Star Wars' character Yoda trying to help a couple in a restaurant to transfer contacts to a new phone.
They reject the Jedi Knight's offer to use "the Force" to help, saying it was done in-store as part of Vodafone's 'Red Box' service.
A voiceover says: "Vodafone Red Box – no need for Jedi training" and closes with its "Power to You" strapline.
The ongoing campaign is supported by outdoor and digital activity, promoting Vodafone's other smartphone services, including Data Test Drive, Tech Team and BuyBack.
The campaign is the first work to come from Rainey Kelly Campbell Roalfe/Y&R, which was awarded the £47m UK advertising business in August last year. OMD handled the media.
Danielle Crook, director of brand marketing, Vodafone UK, said: "These small things can mean the world to our customers and it is why we have developed a range of simple services to help them feel confidently connected on-the-go.
"The campaign with Yoda shows that you don't need to be a Jedi Master to unlock the power of mobile internet."
A spokesman for Vodafone said the company would continue to use its bee characters in its marketing activity for pay-as-you-go customers.

In October last year, Vodafone rolled out a £3m campaign to support the launch of its reward scheme 'Freebee Rewardz'.
The Vodafone campaign takes is lead from those recently launched by Volkwagen and Dixons.
The Volkswagen ad, created by Deutsch, became a YouTube sensation, registering more than 48 million hits. Last year, Dixons Retail launched a multimillion-pound campaign also featuring the Darth Vader character.
Follow Sarah Shearman on Twitter @Shearmans