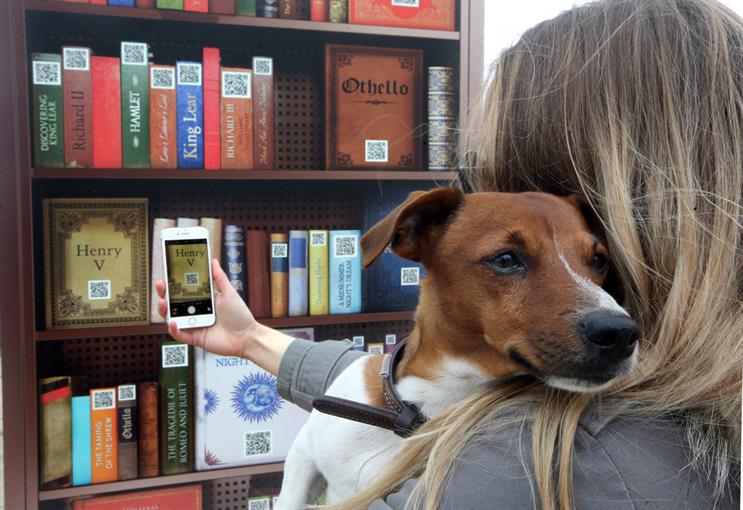 The telecoms giant has created special wallpaper that is designed to look like bookshelves. The books on the paper feature QR codes, which people can scan to download versions of plays such as Romeo & Juliet and Hamlet.
After launching as part of the St George's Day celebrations at Trafalgar Square tomorrow (23 April) the "digital library" will go on tour around the country as well as in countries including Albania, Qatar and the Czech Republic.
Shakespeare's plays were first made widely available in 1594 when they started to be printed in pamphlets or "quartos". Vodafone is distributing soft copies of these editions of the works, which are among the earliest printed versions.
In an accompanying video Vodafone imagines what "tweeting" and "pinning" might have been like in 1616 and features Shakespeare contacting the Spanish writer Miguel de Cervantes, the author of Don Quixote, who died 400 years ago today, the day before Shakespeare.
Vodafone's in-house communications teams led on the activity with support from McCann Bucharest on the design of the bookshelves, Yodo Creative on the video and Golden Goose PR.
People interacting with the wallpaper will also be able directed to the British Library's Discovering Literature website, where they can find out more information about Shakespeare, his plays and life in the sixteenth and seventeenth century.
The initiative is part of Vodafone's push to align itself with technology that makes the world a better place. In January it partnered with the Scout Association to help young people develop digital skills.
The Scout Association introduced two new badges – the Digital Maker and the Digital Citizen – as part of the tie up and Vodafone backed online resources to help girls and boys working towards the awards.
Vodafone also provides educational materials for schools to help children and young people develop their digital literacy and launched anti-cyberbullying emojis to allow people to support friends who are victims.