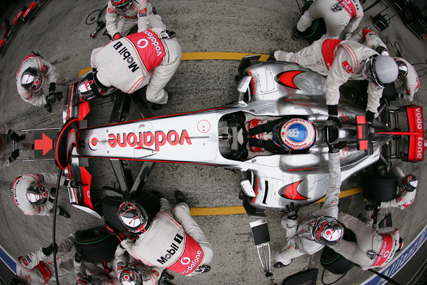 As competition in the mobile market intensifies, Vodafone has announced a new partnership with music promoter Live Nation that will give Vodafone access to tickets for 10 music festivals across the UK. Festivals throughout the summer include Leeds, Reading and T in the Park.
Later in the year, customers will be able to buy tickets 48 hours in advance of general on-sale dates when booking opens for the 2011 season.
As a main sponsor of Formula One's McLaren team, Vodafone will give customers the chance to win a tour of the award-winning McLaren Technology Centre - the private headquarters of the Vodafone McLaren Mercedes team.
Formula One fans will also be able to get tickets to the British Grand Prix at Silverstone in July to watch the World Championship-winning duo of Jenson Button and Lewis Hamilton battle it out for podium positions.
In addition, through the sponsorship of Vodafone London Fashion Weekend in September, thousands of Vodafone customers will get 48-hour advanced access to tickets plus the chance to win tickets to shows and previews.
The multi-year sponsorship includes London Fashion Week in the same month.
Vodafone UK chief executive Guy Laurence said: "We're giving all our customers the chance to be at some of Britain's best events in fashion, festivals and Formula One. We wanted a simple rewards scheme for all our customers that was much more than music and much wider than just London-based events."