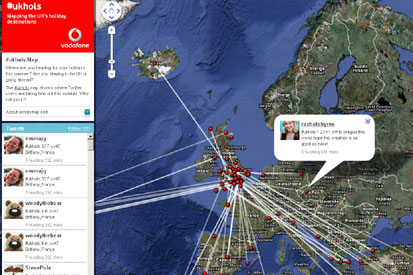 Twitter users must tweet the hashtag #ukhols, followed by their age, sex, the first half of their postcode, complete with their holiday destination, for example, #ukhols 25 F B12 Gran Canaria, which will quickly appear on the Vodafone Google map.
The application also lets users use TwitPic to include pictures of their summer holiday spots.
The website promotes the company's decision to abolish European roaming charges throughout June, July and August, meaning customers can talk, text and send picture messages in over 37 countries and pay standard UK rates.
The #ukhols map was written by web developer Ben Marsh, who also created the #uksnow Map mash-up which was a web hit with UK twitterers in February.
The website features Vodafone branding and a streaming panel of tweets with the #ukhols hashtag.
Users can click destinations on the map to see which Twitter user is travelling to that particular spot, with a link to their profile page and the total distance travelled.
Fortunately, the site does not ask when UK holiday makers are planning to travel. This week in the US, a man claimed his house was broken into and robbed after he announced his vacation plans to his 2,000 followers on Twitter, letting the robbers know when the house would be empty.