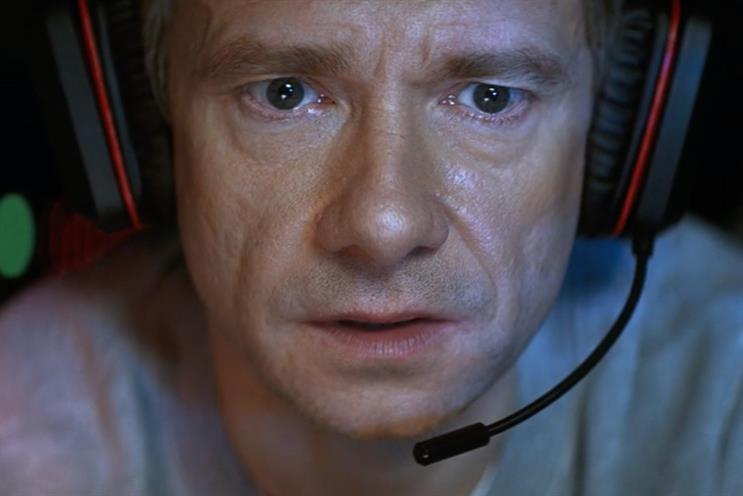 The Ogilvy ads, which launched this spring, were used to promote Vodafone's "Superfast Home Broadband. Speeds guaranteed" offer. The Advertising Standards Authority has banned both.
The TV ad, which resembles the Hollywood movie Gravity, shows a spacewalking astronaut desperately trying to return to a space station before his oxygen runs out. The spaceman is apparently being assisted by a miced-up Martin Freeman, who is giving instructions.
But just as the astronaut is due to enter a space station after Freeman manages to open an airlock, the station disappears. It turns out that Freeman is a gamer, playing a console in the comfort of his own home and his internet has cut out. "Your broadband is rubbish!" cries the stranded astronaut, who in reality is another gamer playing online with his mate.
A voiceover says: "Vodafone guarantee your home broadband speeds or money off until it's fixed". On-screen text states: "Claim a discount if sync speed is below 25Mbps for Superfast 1 (up to 38Mbps) & 55Mbps for Superfast 2 (up to 76Mbps)."
Meanwhile, a radio version of the ad also starring Freeman made identical claims, and Vodafone's website carried the "Ultimate speed guarantee... A home broadband guarantee that's out of this world".
Nine complainants, including Vodafone rival BT, challenged that the speed guarantee claims in all the ads were misleading and unsubstantiated.
But Vodafone countered that the "Ultimate speed guarantee" was understood by customers as a minimum speed or a 15% discount off monthly bill until their sync speed had returned to the promised speed. Vodafone said that the ads created scenarios that viewers would understand to represent broadband speed and the typical online problems. The firm pointed out that the radio ad referred listeners to its website, while the TV ad made everything clear in on-screen text.
Both Clearcast and Radiocentre accepted that the guarantee, as stipulated in small print, was being honoured.
The ASA accepted that the ads were depicting a frustrating situation often encountered by internet users, in this case gamers. But it noted that the second player in the TV ad said: "Your broadband is rubbish... get Vodafone", which implied that Vodafone users would not experience such issues. Or that if they did, they would receive a discount. Essentially, it was deemed that there was a disconnect between the scenario in the ad and how it related to the guarantee.
"Because the ads suggested that Vodafone could guarantee minimum speeds that were fast enough that customers did not experience common issues such as buffering when using their devices in the home to perform typical online activities, when customers did experience such issues but did not qualify for the guarantee, we concluded that the ads were misleading," the ASA said.
The ban comes several months after Vodafone escaped ASA censure after another of its ads starring Martin Freeman received 17 complaints, including one from BT owned EE.