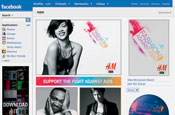 The Vodafone 'Connect to Friends' application lets Facebook users send texts and picture messages without having to switch from their PC to a mobile phone.
The widget can be used by anyone regardless which UK mobile operator they use. Once users sign up, Vodafone provides 25 free text credits. Additional messaging credits can be bought via the online payment system Pay4it.
Prepay customers will get any additional credits deducted from their topup accounts.
The cost of sending texts and picture messages via Vodafone Connect To Friends is set at 10p per text and 30p per picture message for the duration of the pilot. An added advantage of this service is that travellers can also text their friends from overseas at UK rates.