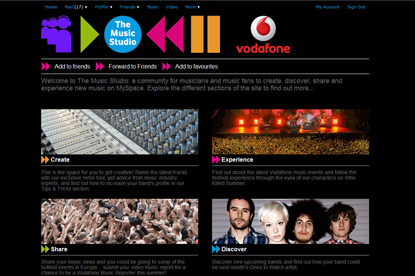 The pan-European campaign, launching today and running for eight months, targets bands, artists and music fans.

The Music Studio allows users to remix the tracks of established musicians using its new "Go Mix" application. Later in the campaign, users will be able to record tracks and upload them on to their MySpace profile.
Bands can try out for a monthly "Ones to Watch" competition, to win a session in a recording studio.

Nick Reid, the head of sales of MySpace UK, said: "MySpace has worked with Vodafone to develop a bespoke platform to engage with our audience and offer them something we know they want. This deal provides us with a great opportunity to allow users and musicians to express themselves, discover new talent and get closer to bands and their music."
David Wheldon, the global brand director at Vodafone Group, said: "The Music Studio offers a unique opportunity to bring a great product to a fully engaged audience. We know that our customers are really passionate about music and we strive to give them new opportunities to experience music on – or off – their mobile. This campaign gives users an innovative, interesting and useful product, while strengthening Vodafone's association as a key player in the music industry."