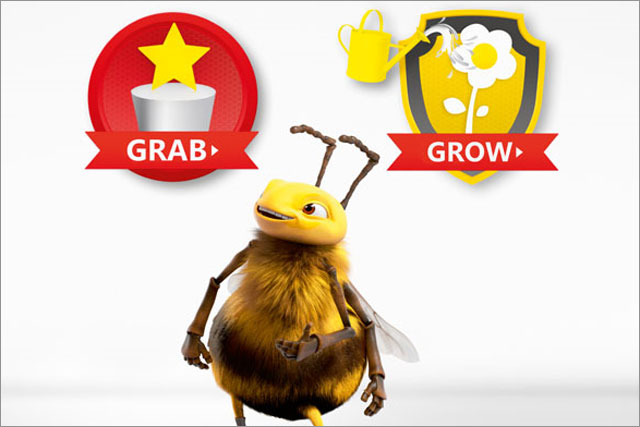 The 'Freebee Rewardz' programme gives pay as you go customers a code to access to a range of deals and discounts every time they top up. Customers can either "grab" the points and redeem them or "grow" them to save for a bigger reward.
Vodafone will kick off a campaign at the start of November with a 40-second TV ad, created by Bartle Bogle Hegarty. The ad, which has 20-second variations, will once again feature the brand's animated bee characters and will introduce the "grab or grow" concept. Print and outdoor ads will launch later that month, supported by online activity.
Dare was responsible for the digital creative, which features animated bees leading consumers through the Rewardz program online. OMD handled the media for this campaign.
Deals include music downloads, gym passes and days out as well as offers from brands including Thorntons and Blockbuster.
Danielle Crook, brand director at Vodafone, said the program was about rewarding and driving "emotional relevance" between transactional activities and the brand.
She said: "From a brand perspective, customers want to feel like we respect their loyalty so we are doing a lot of work around thanking our customers."

Crook said the bees creative had been "very successful" since Vodafone launched the characters nearly a year ago and confirmed plans to feature them in future marketing activity.
Earlier this year, O2 launched its Priority Moments location based rewards scheme, while Orange expanded its film offering for customers with an iTunes movie download deal for customers.
Follow Sarah Shearman on Twitter @shearmans