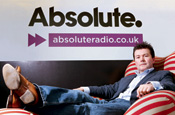 The vodka brand, which is owned by V&S Vin&Sprit, will attempt to force the radio station to ditch its name. The drinks brand claims that it is confusing consumers because the name is too similar to its own vodka brand.
It has launched legal proceedings by issuing a writ for trademark infringement. Virgin Radio was rebranded as Absolute Radio in recent months. It was named after its new management company Absolute Radio International.
Absolute Radio however said that it would fight against the legal proceeedings and a spokesperson said the company was confident its listeners could distinguish between a vodka brand and a radio station.
The news comes as Absolute Radio launched its first wave of TV advertising to promote its £15m re-brand this week.
Nine ads have been created by Albion, which feature the station's DJs Christian O'Connell and Geoff Lloyd, as well as actor Jordan Prentice.
The tag-line used in the campaign is 'That's good, that's real good.' Absolute Radio has also launched a Youtube channel to host its viral content and to support its ongoing outdoor and press campaign.