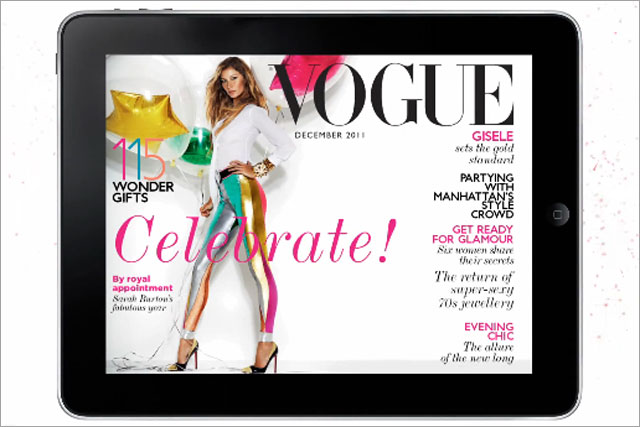 Vogue has published three issues on the iPad since November 2010 and last released issues in December and June 2011.
Last week the ABC figures revealed its average paid-for issue digital edition circulation was 818 copies for the July to December 2011 period. Condé Nast clarified that the only sales in the period were of the December edition of the iPad app and the December Zinio edition. These totalled 4,908 but were divided by six months to reach the 818 figure.
The move was disclosed this morning by deputy managing director Albert Read to an audience of around 200 advertisers and agency figures gathered for a briefing on the publisher's digital progress.
Nicholas Coleridge, the head of the company's UK operations as well as president of Condé Nast International, claimed that across its UK portfolio, more than 200,000 digital editions have been sold in the past year.
There was also a view of the company's US operations from Scott Dadich, vice-president of digital magazine development at Condé Nast US.
Dadich revealed the US operation would launch its first digital edition (rather than an app) on the iPhone in the spring or summer, and, as of next month, 11 of its 18 titles would be available as full digital editions.
He praised Amazon's newly launched tablet, the Kindle Fire, saying he was "pleasantly surprised by the form factor" and that its estimated 5.5 million sales to date "was a lot of tablets in a very short space of time".
However, he said the tablet had "a way to go" to improve and he foresaw a long period of growth for Apple, despite the death of co-founder Steve Jobs.
The launch of the Kindle Fire in the UK later this year will be closely monitored by the publisher.
Mobile increasingly important
In addition to tablets, the company has recognised that mobile is "playing an increasingly important role in its digital future", according to digital director Jamie Jouning.
Jouning said optimising its websites for mobile would be a key focus and he wanted to "consign the mobile banner ad to history", using formats such as expandable ads with video and galleries.
Coleridge did not forget about print amid the focus on digital, stressing that magazines were an "immensely resilient" medium.
"High quality print will play a central part in our brands for as long as I can see," he said, while also claiming that in digital, his company was "rather ahead of the four other companies you might compare [us with]".
Ninety staff – a fifth of the company's workforce – were involved in digital, he claimed, while Jouning added that "creative cross-platform advertising solutions account for more than 25% of our digital revenues".
Follow Daniel Farey-Jones on Twitter @danfareyjones