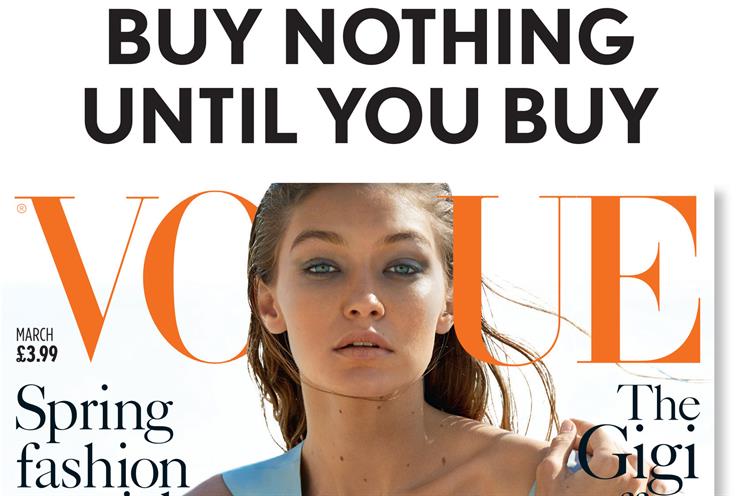 Quinn made the comments in a bullish letter to advertisers and agencies, pointing out the top 50 fashion and beauty brands bought an extra 50 ad pages in the fashion bible during its centenary year in 2016, up from 1,000 pages a year earlier.
"Some media commentators are glib and reckless enough to write down print advertising," Quinn wrote. "Yet it is difficult to downplay the 1,793 display ad pages Vogue published across 2016."
The fact that top fashion and beauty brands bought more ad pages last year was "testament to their belief that one stays grounded by placing ads to a devoted, discriminating readership who can afford to buy the products as a lifestyle choice".
He added pointedly: "Many of the same brands placed digital campaigns in addition, without robbing the print budget."
Quinn sent out his letter to coincide with the launch of an ad campaign today for the latest issue of Vogue – and ahead of the publication of six-monthly circulation figures from ABC on 16 February.
"British Vogue continues to hold the highest paid circulation among the primary UK glossies," Quinn wrote, without naming rivals such as ELLE and Harper's Bazaar.
His comments come at a time of major change for Conde Nast, the publisher of Vogue.
British Vogue editor Alexandra Shulman is ending her 25-year tenure at the title as editor-in-chief in June, and Nicholas Coleridge, managing director of Condé Nast Britain and president of Condé Nast International, is stepping down in August.
Quinn, the publisher since 1991, said: "As we enter 2017, British Vogue still sets the bar. This ad campaign for the March issue reflects our conviction that, in the eyes of Vogue's dedicated readers, print continues to thrive – and continues to merit due investment." The March issue has 216 ad pages.
Vogue's print and out-of-home ads show the cover of the latest magazine with the strapline "buy nothing until you buy".
The print ads will be in The Times for three days, and the out-of-home ads will be featured around
Knightsbridge, Chelsea, Holland Park Avenue, Euston and on the way in from Heathrow airport.
The high-end campaign includes a portrait of Gigi Hadid shot by Mario Testino.
Hearst, the rival owner of ELLE and Harper's Bazaar, has also faced big personnel changes. James Wildman, the chief revenue officer at Trinity Mirror, is to join the publisher later this year as chief executive and president.