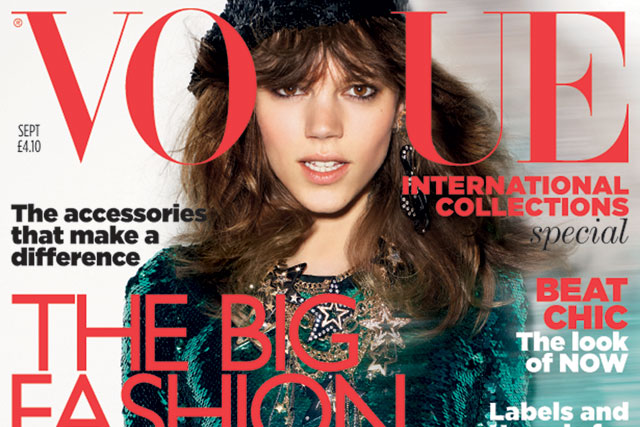 The issue will carry 267 advertising pages, up by 23 pages on last year, with an accompanying 11.5% rise in ad revenues.

Nine new advertisers have signed up for the September edition: Alexander McQueen, StyleBop, Crea Concept, Equipment, MyTheresa, BCBG MaxAzria, Maje, Sandro and newly-launched fragrance Fan di Fendi.

Together they sit alongside Vogue stalwarts such as Dior, Chanel, Gucci, Louis Vuitton, Prada, Armani and Ralph Lauren.
This year's issue will be a welcome fillip for the publisher, although still falls short of Vogue's record total of 306 ad pages, achieved in both 2007 and 2008.
The Condé Nast title's September International Collections issue, available from Thursday (4 August), will also feature a DVD trend guide to international fashion collections for the first time.
Stephen Quinn, publishing director at Vogue, said: "Recognised the world over as the fashion bible, we continue to innovate, increasing our unparalleled influence in the fashion and beauty industry.
"I'm particularly pleased we are offering our readers this DVD, allowing them to watch fashion in the making, and it is something which perfectly fulfils the Vogue values.
"This, together with our ongoing digital developments, and the very buoyant September issue from an advertising perspective, highlights what a strong year 2011 is proving to be for the magazine."
The DVD has been created by Vogue in collaboration with Spring Studios who also helped to create Vogue's iPad app.