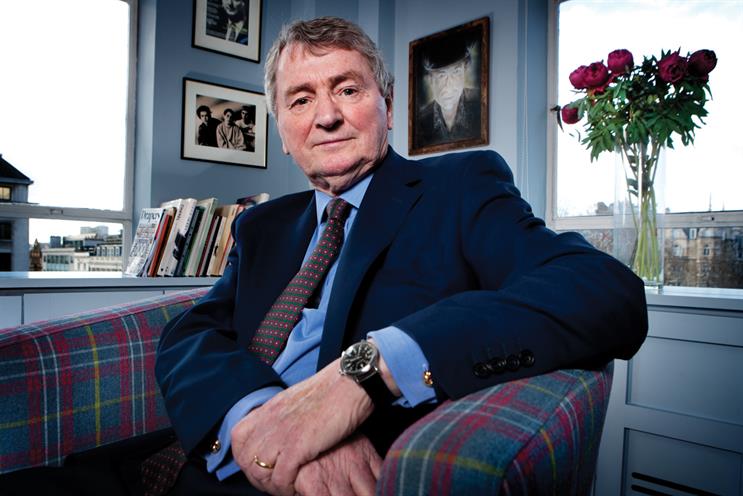 Don't be fooled: Vogue's publishing director, Stephen Quinn, is pugnacious. The charming 70-year-old is a magazine grandee, having been at the helm of Condé Nast's "fashion bible" since 1991.
Scrap everything you have heard about magazines of late, because Vogue is sitting pretty. The print magazine still generates about £25 million a year, almost three-quarters of which is from advertising. Its bumper issues around the three international fashion weeks can each generate in excess of £2 million.
In 2013, Vogue returned to pre-recessionary financial health and, if this year's performance continues, 2014 will be the best in the title's 98-year history. Sales of print and digital copies combined were up 2.1 per cent year on year in the most recent ABCs.
Despite this, Quinn relishes his battles with media buyers: "Those locusts in the ad agencies love to give me a hard time. These guys are half my age. They buzz around me trying to terrorise me. And I give them hell."
Last month, in an unprecedented move, he sent a note to advertisers revealing that the average price paid for a premium ad page in the first quarter of Vogue was £17,500. His openness made colleagues anxious, but Quinn says the disclosure was essential in a context of cut-throat sales negotiations.
He explains: "Chums of mine tease me and say: 'Surely to heaven, the only stress in your life is whether it's Le Caprice or The Wolseley?' There is something in that, but you'd be surprised at the power and force of the media buying houses that come at us. They don't want to pay our rates. I'm a Catholic; I went to confession for 18 years. You long to be truthful, and you long for the media buying companies and the marketing directors to respect the truth."
Quinn, who was the launch publisher of GQ in 1988, says he cried when he was moved to run Vogue three years later, oblivious of its commercial importance as Condé Nast's most profitable title. "You would have run off with me in those days," he says, pointing to his younger self on the spoof GQ "leaving cover" framed on his office wall.
Quinn may live off Park Lane and lunch with the big-spenders at Chanel and Louis Vuitton, but he relishes being on the front line. He has "seen off" challengers, such as the rebrand of Harpers & Queen to Harper's Bazaar in 2005, and has ceased to regard one-time rival InStyle as a contender. "By the time you and I have finished this conversation, IPC Media might have closed it," he says.
He has a fresh fight on his hands in the guise of Porter, the new magazine from the online fashion retailer Net-a-Porter. It has a ballsy cover price of £5, markedly higher than Vogue's £3.99, and Quinn expects it to show a circulation of around 150,000 in the next ABCs. But, for now, he is cheered that Vogue's March edition carried 262 ad pages, while Porter's first issue had 73 – "so, in one way, we weren't impacted at all".
Vogue has been evolving to maintain its newsstand sales, which were boosted last year by the first Miss Vogue, a sister magazine for 18- to 24-year-olds that will now appear biannually with the main title.
In November 2013, Quinn inherited commercial responsibility for Vogue's website and apps, which had been overseen by a central team – though he admits to knowing little about either. "Clients laugh their heads off because they usually get all the bullshit from publishers about having an integrated 360-degree brand," he smiles. "But then I tease them and say: 'When are you going to spend some money on my website? You're not making me look like a 21st-century executive.'"
Clients laugh because they usually get all the bullshit about having an integrated 360-degree brand
The website breaks even, he says, while the app achieves around 8,000 downloads per issue but is not yet profitable. "You've got to be there, though," Quinn muses.
He sees himself as a relaxed and engaging boss: "I do make people laugh quite a lot. I'm not strict and I don't like anything to do with bossiness."
Quinn has worked with Condé Nast's managing director, Nicholas Coleridge, since 1978, but his contem­porary, Simon Kippin, the long-standing publisher of Glamour, is about to retire. "All my friends in the industry have gone," Quinn observes. "I'm still here. It is weird, but I don't want to be here to just go to lunch every day. I'm the one who's creating the mayhem over Porter. If there's a row to be fought, I'm involved."
For the sake of magazines and the media business generally, long may the seasoned protagonist continue.