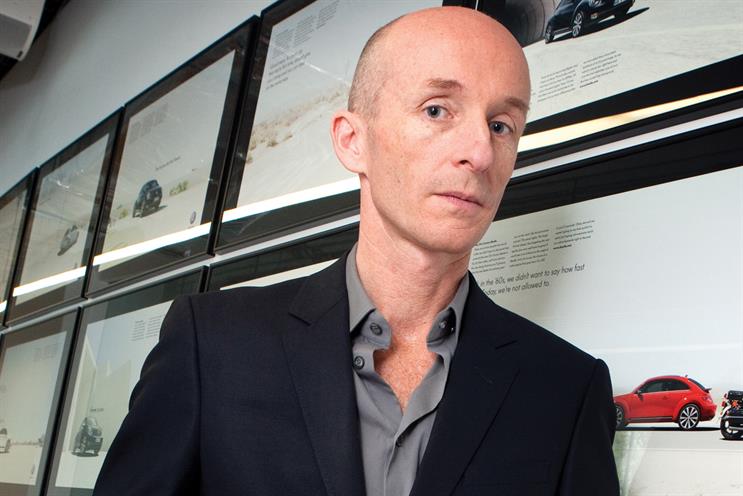 The latest TV spot for Volkswagen's Golf GTI, which breaks on 1 June, features footage of a series of hapless singers inflicting grievous bodily harm on My Way.
The commercial, which closes with Frank Sinatra's definitive version of the song – emphasising how VW's most popular UK model, launched in 1976, is the oldest and best of its class – says a lot about the direction the car-maker's advertising is taking.
For one thing, it chimes with VW's determination to reduce the number of "platforms" on which its cars are built, thus slashing manufacturing costs. The film is adaptable enough to run in markets beyond the UK, some of which are too small to create their own.
For another, it takes VW further into a more populist form of advertising and away from the quirky UK-centric work that for so long was its hallmark.
That was OK while VW was still trying to carve out a significant share of the UK market, Rod McLeod, VW's UK head of marketing, says. Now, he argues, the brand has to be marketed in a way that reflects its status as the third-largest player in the UK market with an 8.7 per cent share and selling 180,000 vehicles a year.
The change of strategy seems to be paying dividends. While VW continues to be hit by the Europe-wide slump in car sales, it still fares a lot better than most of its rivals.
Much of that is down to the fact that VW has not been sucked into the kind of price wars that have affected other car-makers. But, as McLeod points out, it has led to a perpetual challenge for his agency roster – Adam & Eve/DDB, Proximity and Media-Com – as VW seeks to maintain its enviable position of being able to maintain a price premium in the mass market.
This is crucial if, as he expects, a return of car sales in Europe to pre-recession levels is still several years away – and VW is not to be badly affected by exchange rate changes.
The result has been the investment of much time and creative effort into promoting the Golf, which accounts for almost a third of VW's UK car sales and whose advertising must also help support an extensive range of other models. There's also the launch next year of an electric version of the Golf that will need promotional underpinning.
The threat from South Korea's Hyundai Motor Group (which also owns Kia), making inroads with good-value vehicles and without a plethora of brands to support, is not lost on McLeod.
"We see Hyundai as presenting a big challenge," he acknowledges. "It just means that we need to keep being very good at what we do. There are lots of manufacturers who would like the position we have."
Sustaining that position is driving the company further into the digital space. Five years ago, its UK operation was investing around 10 per cent of its marketing spend
in digital. Today, digital accounts for around a quarter and McLeod predicts that even this figure will increase.
Will this result in a declining TV presence? "It's possible," he admits. "We still need to launch cars and generate footfall, which means we have to talk to a lot of people because we're no longer a small player in the UK. I have no doubt we'll still be talking about TV campaigns in five years' time – but we may be doing fewer of them."
The changing emphasis has led to a ramping up of VW's presence in social media – "We have more Facebook fans than any other UK manufacturer," McLeod claims – in an effort to establish an "early warning system" that can nip any customer problems in the bud. "It allows us to act quickly if we're getting negative comments," he explains. "It's something that consumers are demanding."
Meanwhile, VW has been distributing more than 2,000 iPads preloaded with a specially developed app to its UK dealers. The system enables would-be customers to find their ideal car and to see its features demonstrated even if a dealer doesn't currently have a particular model.
"We reckon we're a bit ahead of the game with this," McLeod says. "Some of our competitors are working on it, but they don't necessarily have a system that's designed for an iPad. It offers a much broader customer experience and we'll be investing further in it."
It all makes for a very labour-intensive set-up at Adam & Eve/DDB, VW's lead creative agency in the UK, where a 40-strong team works on the business.
According to McLeod, it's a relationship whose sheer longevity is the key to its survival. "We're honest with each other," he says. "That's important because we can't always get everything right. But it takes time to have confidence in each other. You can't build that in just a couple of years."