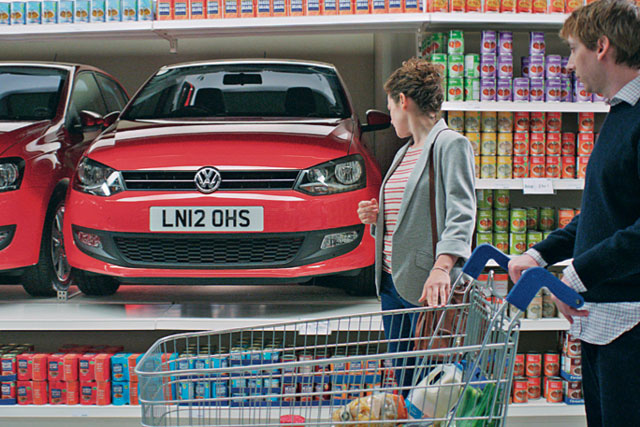 The simple strategy, so creatively conveyed in covetable VW campaigns of yore, is based on 'surprising value'. And while the 30-second execution is 'fine' and relatively well realised, it falls short of its predecessors.
It focuses on a couple in a penny-pinching supermarket shop. They come across a shelf of full-size Polos, featuring an offer too good to refuse.
The supermarket is an apt setting for a value-driven ad, but this could have been achieved without ignoring the car's original point of difference - its solidity, in spite of its size.
'Small but tough' is the proposition the Polo was built on - and remains the strapline on the car's website - so I question the logic of making it look gargantuan, yet lightweight enough to be popped in (or on) a trolley.
Is it really that 'unbelievable' to imagine that supermarkets might sell cars? And although it is the source of the 'humour', the 'FMCG-ification' of car-buying trivialises the second-most considered purchase one can make.
For Volkswagen, in a perfect world, consumers will remember the recent heartstring-tugging Polo spot (in which a father brings up his daughter from babe-in-arms to buying her first car) and now discover this is their chance to snap up a Polo at a steal. I fear, in reality, they'll see an offer for a shiny car they either like or don't like.
Where's the spoof, or real, add-to-basket option on the website, clever digital point-of-sale activation, or pure joy of the brand's 'Fun Theory'?
In austere times, this single-minded value approach may resonate and shift units - in terms of prompted awareness, it was beaten only by Confused.com's wild-eyed loony. Whether it lingers in the memory like the singing dog, or promotes a wry smile as curled as the Golf's coffee-drenched salesman, is another matter.
Brand strategy verdict: 6 out of 10
Yup, we get it. The Polo is such great value you could find it next to the bread aisle, but this lacks the creative clout of previous campaigns.