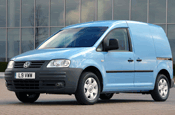 The review is being handled by Agency Assessments and is expected to conclude in January next year.

The intermediary is already approaching agencies and will be compiling a long-list over the next week.

In the past, VW has used a number of regional agencies for its commercial vehicles account but is now looking for a single, bigger agency to put together an overarching marketing strategy.

It is unclear if its existing "Let's go to work" line will be replaced.

The brief will include above-the-line advertising, direct marketing, local marketing programmes and point-of-sale material.

Simon Elliott, the director of Volkswagen Commercial Vehicles, said: "We have achieved outstanding results from our current agencies, including our 'Let's go to work' campaign.

"However, with the competitiveness of the current market, we have taken this opportunity to introduce an agency review to ensure we are getting the best value, creativity and fresh thinking for the brand."