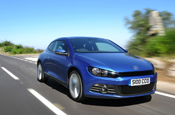 The work will be shown in an exhibition, 'Scirocco Studios', which opens in Glasgow on 21 August with a party hosted by Dazed & Confused magazine. The exhibition will then tour Bristol, Manchester and London.
Exhibitors include contemporary-furniture designer Philippe Malouin and brother double-act Hudson-Powell, product designer Ben Wilson, light designer Moritz Waldemeyer and film-maker Kinga Burza.
Burzam, who has worked with The Thrills and Kate Nash, has created a 360° video for the show.
The Scirocco launch will be supported by print, outdoor, direct marketing and digital advertising throughout August and September.