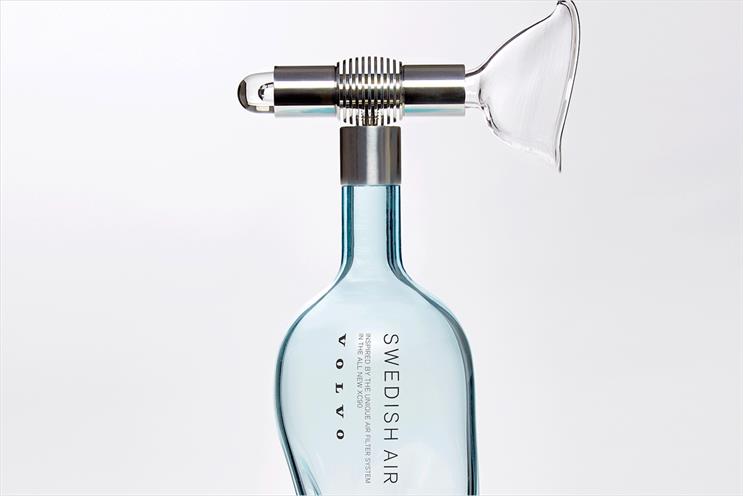 The Swedish car marque claims its new XC90 has the cleanest engine performance in its class. It has a CleanZone air filtration system that regulates the car's interior air quality.
As part of a series of films promoting the key product innovations of the upcoming XC90, Grey has created a film that features peaceful Swedish landscapes with just the sound of wind. It does not show the car itself.
The film will be shown in cinemas and online, at car shows and launch experiences.
Grey also collaborated with New York based glass studio Off Centre to create a "Swedish air inhaler" that offers users a deep breath of fresh air. The inhaler will be used at car shows and dealerships to draw attention to the clean air filter system.
Hollie Newton, Grey London's creative director, said: "It's as close to inhaling a lungful of Swedish Air as you can get without a plane ticket."
Peter Mertens, senior vice president of research and development at Volvo Cars, said: "Up to 45 per cent of the industrialised world's population is now suffering from some form of allergy or hypersensitivity. Over 10 per cent has asthma.
"At Volvo, our commitment to safety goes well beyond safety belts and air bags. It's about making sure that every minute you and your family spend in a Volvo is as safe as it can possibly be. That includes breathing."
The inhaler was created by Jonas Roth and Rasmus Smith Bech. The film was created and directed by Hollie Newton through GreyWorks. Off Centre handled the product design and fabrication for the inhaler.
Meanwhile, The Guardian and Volvo have teamed up to trial a real-time marketing campaign for display advertising, which goes live today. The deal, brokered by Mindshare, will promote the Volvo V40 as part of a wider campaign.
The campaign with The Guardian will use real-time analytics tools to identify surging stories across The Guardian's sport, environment, life and style, motoring and technology verticals.
Once identified, V40 ads will then appear across all the ad formats on the page – including billboards, mid-page interstitials and mobile banner. It will run across all The Guardian's digital channels.