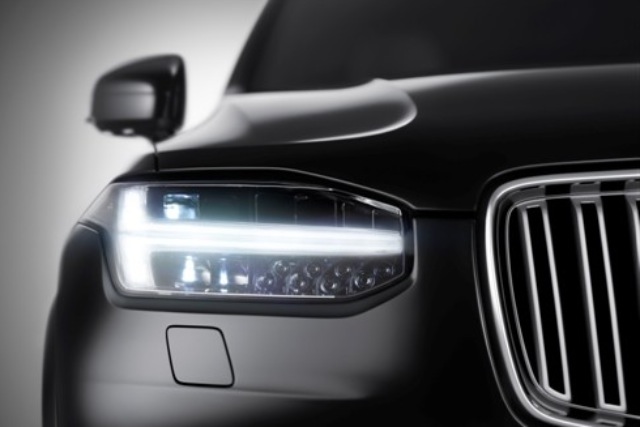 According to a report in the FT, Alain Visser, head of marketing, said the launch of the XC90, which will be backed by a major global marketing push, represents "more than just a new car… it's almost like a relaunch of the brand".
Volvo's new owners have reportedly described the Swedish cars' interiors as "too Scandinavian", however the design and furnishings of the XC90 are still expected to acknowledge the brand's heritage.
In a release showing teaser-style pictures of the car, the firm said it was "revealing images of the front end or 'face' of the new XC90 SUV, which is distinguished by its T-shaped running lights, christened 'Thor's Hammer' by the design team, after the shape of the hammer used by the famous Norse god of thunder Thor".
Meanwhile, according to a report by Reuters, Vissier said the XC90 was "Scandinavian design without the bling-bling", adding it "is a signal that we are here as a premium brand".
The new SUV marks the first major attempt by Chinese owner Zhejiang Geely Holding Group to take on the German premium car marques.
The XC90 is being launched in Stockholm in two weeks time and will be the first car in Volvo's range to be built on its scalable product architecture (SPA) – a modular chassis technology that has been developed as part of an $11bn (£6.6bn) investment in the business.
The technology will make its debut with the XC90 before being rolled out across all future Volvo models.
Geely bought Volvo off Ford four years ago. Its new owners aim to reposition the brand to compete more effectively with luxury car brands such as BMW, Audi and Mercedes.
Dr Peter Mertens, Volvo Car Group's senior vice-president of research and development, said: "SPA and the XC90 are firm evidence of our Volvo-by-Volvo strategy.
"The XC90's outstanding combination of luxury, space, versatility, efficiency and safety will bring the SUV segment into a new dimension, just as the original XC90 did in 2002.
"SPA gives us a fresh technological start. Around 90 per cent of the components in the all-new XC90 and upcoming models are new and unique.
"We are raising the bar to the very top of the premium league when it comes to quality and technology level in every vital area."